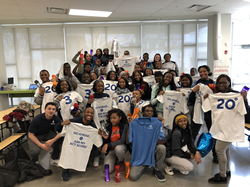 "Our students deserve the best, and we must stay constantly committed to strategies that improve experiences both inside and outside the classroom — for students, for teachers, and for families."-Jennifer Winward, Ph.D., Founder and CEO of Winward Academy
NEW YORK (PRWEB) January 28, 2020
Interviewed by Entrepreneur magazine, Dr. Jennifer Winward, founder and CEO of Winward Academy, was featured as an educational leader presenting ideas to improve the national educational landscape. When asked for her general thoughts on the U.S. education system, Winward notes, "it is important to recognize and appreciate what is going well and continue to explore and nurture these strengths as we also recognize areas for growth and improvement. The national dialogue is currently focused on education equity, which will continue to move us in the right direction."
Asked to identify five strategies to improve classrooms, Winward advocated the following:

Recognize the issue: to improve outcomes, people must first recognize the well-researched disparities that exist in access to resources.
Use the most effective research-based learning strategies: students need to be encouraged to learn from their mistakes and to paraphrase what they learn into their own words.
Use thoughtful technology to aid students' academics and to ease workload of teachers: ed-tech solutions should be the student-centric application of technology to education, not vice versa.
Track outcomes: any additional resources incorporated into a classroom environment must be measured to ensure empirical success.
Embrace personalization: students need immediate personalized feedback on all questions based on their unique learning needs.
To respond to these strategies for improvement, Winward spoke to specific actions to be taken:
Develop a formalized way to connect schools with documented needs to individuals, organizations, and philanthropists providing resources.
Establish a well-defined, fact-based methodology for determining resources needed by schools.
Provide better training, better recognition, and better pay for excellent teachers.
Develop programs that help students determine the best path after high school - whether it's college, trade school, junior college or the military.
Work with students to improve their writing skills.
Winward concludes, "these changes are critical to bring growth to our students' skills, content knowledge and confidence. Our students deserve the best, and we must stay constantly committed to strategies that improve experiences both inside and outside the classroom — for students, for teachers, and for families."
The full article can be found at entrepreneur.com.
###
About Winward Academy
Test success, college success, and life success – they all begin at Winward Academy, a research-based, student-centered learning platform for the ACT, SAT, math class, and college applications. Winward Academy applies a scientific approach to customize learning for each student, enabling growth for students of all levels and learning styles. Winward Academy is a team of passionate adolescent learning researchers committed to thoughtfully developing curriculum that improves learning, retention, and test performance – building confidence for life. Winward Academy curriculum is used by students at home, by teachers in the classroom, and by charities in after-school and summer programs. For more information on Winward Academy, see winwardacademy.com or follow the company on Facebook, Instagram, or Twitter.