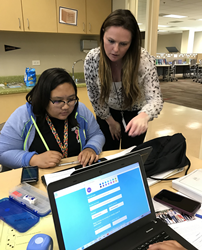 Nothing is more powerful than keeping promises to youth, and that's what Winward makes possible every day.
DELTA, Ill. (PRWEB) January 29, 2020
The Kappa Alpha Theta Fraternity recognized San Diego resident Dr. Jennifer Winward in its 35 Under 35 Award that celebrates young alumnae (age 35 and under) for their accomplishments after college. Dr. Jennifer Winward, the founder and CEO of Winward Academy, received the award for her contribution to education.
After tutoring students from the nation's most elite private schools for 20 years, Winward took her experience and her passion for teaching to create Winward Academy, an award-winning tutoring platform. Wanting all students - not just those with whom she worked privately - to have access to quality teaching, Winward actively pursues charitable partnerships to support underserved students living in poverty or foster care, moving frequently with parents in the military, or battling cancer or acute illnesses. These students show dramatic increases in their academic performance, ACT and SAT scores and college readiness.
With Winward Academy as a resource, these young people have shattered stereotypes and renewed their confidence in themselves and in their futures. Nothing is more powerful than keeping promises to youth, and that's what Winward makes possible every day.
Lauren Hearne, Assistant Director of Alumnae Engagement at Kappa Alpha Theta, shared, "Jennifer has transformed communities by positively affecting the trajectory of the lives of underserved high school students." Examples of schools and charities supported with Winward's philanthropic outreach include the YMCA, Girl Scouts, AVID, Reality Changers, Barrio Logan College Institute, Promises2Kids, Tiger Woods Foundation and more. Over 10,000 students from these and other deserving organizations were sponsored by Winward Academy last year. Improvements in GPA and ACT/SAT scores allowed these students to apply to colleges they previously considered out of reach and to earn scholarships averaging $100,000/student.
The significance of Winward's contribution to education is reflected in the words of Barbara Ybarra, CEO of Barrio Logan College Institute, a nonprofit that supports first generation college students. "Equal access to resources is imperative, and we're so thankful to Dr. Winward and Winward Academy for their commitment to getting our students access to what they need to set themselves apart and grow the confidence they need to be successful in college and beyond."
###
About Winward Academy
Test success, college success, and life success – they all begin at Winward Academy, a research-based, student-centered learning platform for the ACT, SAT, math class, and college applications. Winward Academy applies a scientific approach to customize learning for each student, enabling growth for students of all levels and learning styles. Winward Academy is a team of passionate adolescent learning researchers committed to thoughtfully developing curriculum that improves learning, retention, and test performance – building confidence for life. Winward Academy curriculum is used by students at home, by teachers in the classroom, and by charities in after-school and summer programs. For more information on Winward Academy, see winwardacademy.com or follow the company on Facebook, Instagram, or Twitter.