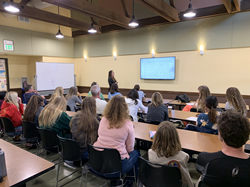 "We are thrilled for the support of Winward Academy to help our Girl Scouts learn more about the college application process while also emphasizing the importance of integrity and character in the process." - Rea De La Cruz, Program Manager at Girl Scouts San Diego
SAN DIEGO (PRWEB) February 04, 2020
Winward Academy, a national leader in educational support for high school students, is helping Girl Scouts in San Diego improve their college access and college readiness. As a community partner of Girl Scouts San Diego, Winward Academy facilitates presentations and activities for Girl Scouts to earn their College Knowledge badge.
"We are thrilled for the support of Winward Academy to help our Girl Scouts learn more about the college application process while also emphasizing the importance of integrity and character in the process," shared Rea De La Cruz, Program Manager at Girl Scouts San Diego.
"Of course we want all youth to have the opportunity to earn admission to their dream colleges. However, they must do so without compromising their values or losing their sense of self," said Dr. Jennifer Winward, Founder and CEO of Winward Academy. "A partnership with Girl Scouts San Diego is ideal because we're aligned in the paramount importance of values and integrity in the college admission process."
Girl Scouts from across San Diego county attend workshops led by Winward at the Girl Scouts Program Center in Balboa Park. They learn about the differences between the ACT and SAT with tips to improve their test-taking skills and to grow by learning from mistakes. Winward provides resources for scholarship identification and acquisition; examples of successful college essays to inspire Girl Scouts to share their stories in an authentic voice; and discussion around the role of exercise, sleep and nutrition in maximizing success on ACT and SAT college entrance exams.
Follow-up activities are also planned with troop leaders to provide opportunities for Girl Scouts to take ACT and SAT practice exams and, more importantly, to review and learn from their mistakes on the practice tests. "We're so thankful that Winward Academy supports our troops with concrete, actionable suggestions for the college application process. I'm indebted to the Girl Scouts and to Winward Academy for helping my daughter and her friends," shared Kimberly Hess, mom and troop leader.
Families can visit sdgirlscouts.org to learn more about Girl Scouts and its opportunities for high school students to develop their skills and knowledge for college.
About Girl Scouts
Girl Scouts is 2.5 million strong—more than 1.7 million girls and 750,000 adults - who believe in the power of every G.I.R.L. (Go-getter, Innovator, Risk-taker, Leader)™ to change the world. Our extraordinary journey began more than 100 years ago with the original G.I.R.L., Juliette Gordon "Daisy" Low. On March 12, 1912, in Savannah, Georgia, she organized the very first Girl Scout troop, and every year since, we've honored her vision and legacy, building girls of courage, confidence, and character who make the world a better place. We're the preeminent leadership development organization for girls. And with programs from coast to coast and across the globe, Girl Scouts offers every girl a chance to practice a lifetime of leadership, adventure, and success.
About Winward Academy
Test success, college success, and life success – they all begin at Winward Academy, a research-based, student-centered learning platform for the ACT, SAT, math class, and college applications. Winward Academy applies a scientific approach to customize learning for each student, enabling growth for students of all levels and learning styles. Winward Academy is a team of passionate adolescent learning researchers committed to thoughtfully developing curriculum that improves learning, retention, and test performance – building confidence for life. Winward Academy curriculum is used by students at home, by teachers in the classroom, and by charities in after-school and summer programs. For more information on Winward Academy, see winwardacademy.com or follow the company on Facebook, Instagram, or Twitter.