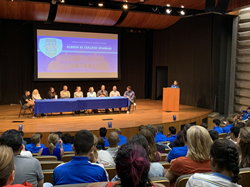 "We need to reach the players wherever and whenever we can. It's the best way to ensure they have the tools and information to maximize their success." - Michal-Lynn O'Kelley, Placement Director for Albion SC
SAN DIEGO (PRWEB) February 06, 2020
ALBION SC, a national leader in the development, advancement and placement of elite competitive soccer players, and Winward Academy, a national leader in learning programs for high school students to prepare for math class, ACT/SAT college entrance exams and college applications, have announced a partnership to support ALBION SC students achieve their potential as athletes and as students.
"For ALBION SC to remain the top soccer club in America, we need to ensure that we are innovating and exposing our players and families to resources and tools for academic growth and success," shared ALBION SC CEO Noah Gins. "We're thrilled that Winward Academy can provide that academic support."
The reality is that student athletes, especially those at a highly competitive level, face additional challenges with balancing their academics with practice, travel and tournaments. They need to be well-informed and supported throughout all aspects of the process - both inside the classroom and outside the classroom.
"Winward Academy is thrilled to support ALBION SC families," shared Winward Academy founder and CEO Dr. Jennifer Winward. "It's an honor to present to the players and their parents and to answer their questions about the academic side of being a student-athlete."
ALBION SC and Winward Academy are dedicated to reaching students and getting them the support and information they need for a successful path to college. "We host formal events with professional panels and even sit on the field to do Q&A after practice," said Michal-Lynn O'Kelley, Placement Director for Albion SC. "We need to reach the players wherever and whenever we can. It's the best way to ensure they have the tools and information to maximize their success. And Winward Academy is an excellent resource for families to learn more about the importance of academics not only for college recruiting but also for life."
Families can visit http://www.albionsoccer.org to learn more about ALBION SC's commitment to supporting students to gain college admissions, college scholarships and placement on professional teams.
About ALBION Soccer Club (ALBION SC)
The mission of ALBION SC is to develop successful, well-rounded individuals who exhibit good sportsmanship, ethical and moral behavior and good citizenship. We aim to leverage the challenges and life lessons of striving for excellence in competitive soccer into molding young people to understand the value of teamwork, sportsmanship and hard work while fostering an environment that allows players to reach their full potential and love for the game. For more information about ALBION SC, contact Wayne Crowe at info@albionsoccer.org or 858-200-7992.
About Winward Academy
Test success, college success, and life success – they all begin at Winward Academy, a research-based, student-centered learning platform for the ACT, SAT, math class and college applications. Winward Academy applies a scientific approach to customize learning for each student, enabling growth for students of all levels and learning styles. Winward Academy is a team of passionate adolescent learning researchers committed to thoughtfully developing curriculum that improves learning, retention, and test performance – building confidence for life. Winward Academy curriculum is used by students at home, by teachers in the classroom, and by charities in after-school and summer programs. For more information on Winward Academy, see winwardacademy.com or follow the company on Facebook, Instagram or Twitter.