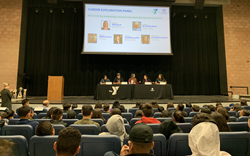 For the YMCA and Winward Academy, college readiness as a means to combat poverty is a cause worth fighting for.
SAN YSIDRO, Calif. (PRWEB) February 06, 2020
On Saturday February 8 from 9:00 a.m. - 1:00 p.m., Winward Academy and the Border View Family YMCA will host hundreds of San Ysidro teens for a college readiness workshop in the Performing Arts Center at San Ysidro High School (SYHS).
Many students attending SYHS will be the first in their families to go to college, which research suggests will place them with additional challenges in applying to, accessing and completing postsecondary education. In the San Ysidro community, only 15.3% of residents ages 25 and older have a Bachelor's degree, compared with 37% at the county level.
"To create equitable opportunities for accessing college, college readiness support is crucial," said Border View Family YMCA Executive Director Gaby Millan. "Our Y is committed to fulfilling this community need, and we're thankful for our partnership with Winward Academy to fill these gaps."
The college readiness workshop will be led by Dr. Jennifer Winward, the founder and CEO of Winward Academy. Students will review the differences between the ACT and SAT, learn test taking strategies and tips for success and complete practice questions in the most frequently tested English and Math concepts.
"Winward Academy is thrilled to support San Ysidro High School students to provide critical information about college and career readiness," shared Dr. Winward.
"The reality is that students in northern and central San Diego have access to resources like Winward Academy that aren't likely available to families in southeast San Diego," shared Marko Gutierrez, a SYHS teacher. "It means a lot that Winward Academy is making sure all teens in our community have access to critical information that shapes their decision making and opens doors for their futures."
For the YMCA and Winward Academy, college readiness as a means to combat poverty is a cause worth fighting for. "Youth in this area need support with college readiness as a means to lift them out of poverty and help them achieve their full potential," Millan added.
To learn more about the YMCA of San Diego County's efforts to promote college access and college readiness in the community, please contact Gaby Millan at (619) 428-9622.
###
About the YMCA of San Diego County
The YMCA of San Diego County is the largest Y Association in the nation serving nearly 500,000 San Diego County residents and employing more than 5,500 people. Through a variety of programs and services focused on youth development, healthy living and social responsibility, the Y unites men, women and children - regardless of age, income or background - to nurture the potential of children and teens, improve the nation's health and well-being, and provide opportunities to give back and support neighbors. The YMCA of San Diego County is dedicated to improving the quality of human life and to helping all people realize their fullest potential as children of God through the development of the spirit, mind and body. Visit http://www.ymcasd.org to find your local YMCA or call (858) 292-YMCA (9622).
About Winward Academy
Test success, college success, and life success – they all begin at Winward Academy, a research-based, student-centered learning platform for the ACT, SAT, math class, and college applications. Winward Academy applies a scientific approach to customize learning for each student, enabling growth for students of all levels and learning styles. Winward Academy is a team of passionate adolescent learning researchers committed to thoughtfully developing curriculum that improves learning, retention, and test performance – building confidence for life. Winward Academy curriculum is used by students at home, by teachers in the classroom, and by charities in after-school and summer programs. For more information on Winward Academy, see winwardacademy.com or follow the company on Facebook, Instagram, or Twitter.