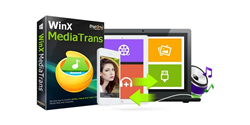 WinX MediaTrans is updated to v7.3 to improve user experience of exporting iPhone RAW, protrait mode photos, edited photos and videos.
CHENGDU, China (PRWEB) January 28, 2021
Though with a full support of the iPhone 12/Pro/Max, some users of WinX MediaTrans still get a not-so-pleasant experience on iPhone video and photo exporting. Given this, Digiarty Software, Inc (WinXDVD) made a major overhaul to improve user experience of video / photo export and more.
Firstly, in response to the disorganized RAW photos in the iPhone 12 Pro (Max) camera roll album, WinX MediaTrans v7.3 added a brand-new RAW photo album classification. Also, the support of RAW photos export was added. This update means users can locate exactly to each RAW photo and transfer the photo from the iPhone 12 Pro (Max) to a computer without any problem.
For the portrait mode photos losing effect when moved to computer and the iPhone not exporting edited photos issues, WinX MediaTrans also made a specialized improvement. With the latest version of this iPhone manager, users can export portrait mode photos in HEIC format instead of JPEG format with blur effect. The edited photos will be perfectly transferred as well.
Besides photos, many users complain that they cannot export the edited videos from an iPhone to a desktop as well. To solve this issue, WinX MediaTrans v7.3 reconstructs the kernel mechanism of video transferring, allowing users to retain and export edited videos exactly.
Still, to defend the easiest way to transfer photos, music and videos between the iPhone and iPad and a computer, WinX MediaTrans also fixes some minor bugs on its main features. After the update, it has an above-trend performance in all these aspects.

Transfer Photos: It organizes iPhone and iPad photos by album and transfers photos between iOS and Windows with crisp images, undistorted color and all details reserved. It can be superfast, up to 8 seconds only to sync 100 4K pictures.
Manage Music: It enables users to manage music files in all respects, such as two-way music transfer, playlist management, ringtone customization, music format conversion, etc.
Transfer Videos: It can transfer footages from or not from the iPhone camera roll without any quality loss. Users are even empowered to transfer iDevices not supported video files like MKV, AVCHD to iPhones and iPads since WinX MediaTrans can auto convert them to iOS supported formats.
Sync More Files: Besides the most common photos, music and videos, WinX MediaTrans is also available to transfer e-books, audio books, voice memos, podcasts and more.
Encrypt File: To avoid users' private or significant files being exposed to hackers, prying eyes, unauthorized copy and distribution, this data encryption tool takes full advantages of 256-bit AES, 1024-bit RSA, PBKDF2, or Argon2 encryption to protect files with passwords.
Use as a Flash Drive: iPhone 12 models start at 64GB, and reach 256GB capacity maximally. WinX MediaTrans can use the iPhone as a flash drive to store files like DOC, Excel, and PDF privately and provisionally.
Pricing and Availability
WinX MediaTrans v7.3 is available for downloading officially with a full support on both 32-bit and 64-bit Windows 10/8/7/XP. It's an excellent data transfer tool to transfer photos, video, music and more between Windows PCs and iPhones and iPads powered by iOS 14 or earlier.
There are 3 license options of WinX MediaTrans: 1 year/1 PC license at $29.95, Lifetime/2PCs license at $35.95, and Lifetime/3 PCs at $65.95. Users can choose the best fit according to their needs.
About Digiarty Software, Inc.
With over 14 years of development, Digiarty Software has become a world-leading provider of personal and home-use video audio applications based on Windows and macOS. It is offering easy and creative solutions of free DVD digitizing, DVD burning, HD/4K video conversion, online video downloads, media playback, iPhone file management, and so on for movie/music addicts, handset owners, game players, etc. For more information, please visit: https://www.winxdvd.com/