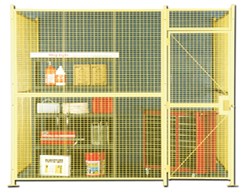 Wire partitions are needed for safety and security. The complete wire partition system is arguably the best wire partition we have to offer
Boise, Idaho (PRWEB) August 26, 2013
A product of the day is an item that stands out from the other products. Everyday A Plus Warehouse chooses that next product to be featured as product of the day. The company evenly distributes these products between the different lines offered at A Plus Warehouse. One day the product of the day may be a type of locker and the next day a type of hoist. The products vastly differ from each other. Product of the day gives the company the chance to showcase some of the best products offered. Today's product of the day is the complete wire partition system. According to Ed Stairman, president of A Plus Warehouse, " Wire partitions are needed for safety and security. The complete wire partition system is arguably the best wire partition we have to offer."
Safety is always first priority at A Plus Warehouse. When dealing with dangerous machinery a wire partition is highly suggested. This keeps people away from where they shouldn't be. If every civilian were smart enough to stay away from dangerous machinery than a customer wouldn't need wire partitioning. However, unfortunately, some people may be unaware of the dangers of machinery. What better way to say this is dangerous than to have wire partitioning? Having a wire partition also keeps criminals away. For example, wire partitioning can be put around valuables. The only way a criminal is going to get at those valuable is by attempting to break the wire partitioning. This will cause much commotion. Thieves will likely not try to steal an item protected by wire partitioning.
The complete wire partitions system is probably the best wire partition system around. The item is extremely simple to assemble. A customer's 10 year old child could assemble the item. The wire is a sturdy 2" X 1" X 10 GA. The item is ideal for machine guarding, tool rooms, and isolated areas. Cages are also equipped with a 3 ' W X 7'H single hinge door. Padlock lugs are all interconnecting hardware. This item is available in several different sizes designed to meet the needs of any customer. They also allow for maximum flexibility when relocating or expanding. Customers should order theirs today.
A Plus Warehouse is the operator of http://www.apluswhs.com and distributes materials handling and storage equipment nationwide and throughout Canada. The sales staff at A Plus Warehouse is available at 800-209-8798. A Plus Warehouse has been in constant operation since 1996.