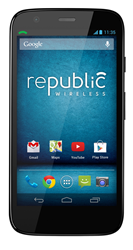 From a consumer's perspective, there is a lot of confusion in today's wireless marketplace. With most carriers, it has become more critical than ever to study the fine print to ensure that your bill will be what you expected.
Raleigh, NC (PRWEB) March 20, 2014
The 2014 PCMag.com Readers' Choice Awards for Mobile Carriers says Republic Wireless, the innovative wireless service provider that saves consumers money by harnessing the power of both WiFi and cellular to significantly reduce the cost of smartphone service, tops the national Big 4 carriers when it comes to customer satisfaction. The PCMag.com survey is the largest consumer survey in tech, polling 25 million readers every month about their satisfaction with the technology products they use.
"We're honored to be recognized in the 27th Annual Readers' Choice Awards from PCMag.com," said David Morken, co-founder and CEO of Republic Wireless. "We started Republic Wireless because we believed that the traditional wireless industry model was broken, and we knew we could do a better job at meeting the needs of consumers. Today's announcement is strong validation that consumers will respond when you make their needs the top priority. We are thrilled that so many of our members believe in what we are doing."
The 2014 PCMag.com Readers Choice survey consisted of 12 satisfaction-related questions and asked participants to evaluate their own wireless carrier on a 1-10 scale, ranging from poor to excellent. Highlights from the survey included the following:

Customers rated Republic Wireless overall as an 8.4, compared to the industry average of 7.8, ahead of AT&T, Verizon Wireless, Sprint, and T-Mobile, US Cellular, Straight Talk Wireless, and Virgin Mobile. "These survey results show that Republic Wireless members are among the happiest in the entire industry. The reason for this is simple, really – we treat our members the way they should be treated. With us there's no catch, no additional fees, no contracts, no jargon," said Morken.
Customers are more likely to recommend Republic Wireless than customers of AT&T, Verizon Wireless, T-Mobile, Sprint, US Cellular, Straight Talk Wireless, and Virgin Mobile. "We've found that, when you do the right things for your customers, you don't need to spend hundreds of millions of dollars a year on slick advertising campaigns and promotional gimmicks. Our focus is on delivering remarkable value to our members - and they in turn feel inspired to pass it on. Nothing makes us prouder than when a Republic Wireless member recommends our service to their friends and family," added Morken.
Republic Wireless was rated #1 in the industry for having the most reasonable monthly rates with a "phenomenal score" of 9.7 out of 10. "We think staying in touch with the folks who matter to you shouldn't have to cost a lot. Our Hybrid WiFi + Cell technology lets us offer the most affordable range of smartphone plans in wireless today with unlimited talk, text and data – starting at just $5 per month," commented Morken.
Republic Wireless customers indicated that they required customer service assistance less than customers of any other U.S. carrier. "The simplicity of our plans and the quality of our service means fewer requests for customer assistance. Day or night, 365 days a year, our Support Team is here for our members. Our online community is very robust. Our staff and members are always sharing insights with other members. The fact is most customer service issues are not unique and don't really require a phone call into a call center – so we are able pass the savings on to our customers in the form of lower rates. These survey results speak for themselves - our members need less support than the customers of any other wireless provider," responded Morken.
"The survey data from the PCMag.com Readers Choice Awards is a clear indicator that American wireless consumers are fed up with the status quo and are eager for an alternative," Morken added. "That's the reason why thousands of new members each week are joining Republic Wireless. We're on a mission to create smartphone service as it should be. Our members have spoken that they really like what we're doing. With WiFi as the primary network and cellular as the back-up network, we offer the best value for the money and the lowest total cost of ownership in the industry.
"From a consumer's perspective, there is a lot of confusion in today's wireless marketplace. With most carriers, it has become more critical than ever to study the fine print to ensure that your bill will be what you expected. At Republic – we operate very differently – not only can you change your plan up to 2X per month on the smartphone so you never buy more cellular than you really need, but also the plan you sign up for, is the bill you get. Period. Our $25 per month unlimited WiFi + 3G cellular plan coupled with the exceptional Moto G smartphone coming to Republic Wireless in April for only $149 is the best value for the money."
About Republic Wireless
Named 'Disruptor of the Year' by Entrepreneur Magazine, Republic Wireless is a wireless service provider dedicated to helping consumers save money on wireless service. Republic Wireless, a division of Bandwidth, headquartered in Raleigh, North Carolina, is spearheading a wireless freedom movement to return value and control of the smartphone experience to members by leveraging the power of both WiFi and cellular networks. Our Hybrid Calling uses WiFi in the home, office or anywhere else as the primary network for calls, texts and data. When outside of WiFi coverage, the smartphone works just like a typical smartphone on the cellular networks of national CDMA carriers. Visit http://www.republicwireless.com/ for more information. Media resource center here.