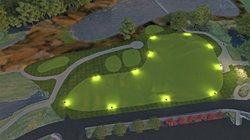 WISCONSIN DELLS, Wis. (PRWEB) March 31, 2021
Already one of the country's leading regional leisure destinations, the Wisconsin Dells area is positioned well to maintain that popularity in 2021, as plane travel continues to take a backseat to road trip vacations. Fittingly, the destination – which is celebrating its 15th year as "The Waterpark Capital of the World!®" – will offer visitors a host of new or significantly expanded attractions this year, running the gamut from gaming to golf to an internationally renowned wildlife preserve.
Downtown Gets a Facelift
Wisconsin Dells' famous downtown area will get a facelift this year, with the popular Wizard Quest having moved to a location nearly three times its original size. The interactive gaming emporium will have more secret passages and hidden entrances for guests to explore, along with the addition of a restaurant, gift shop, toy store and ice cream parlor. Between the main quest games and side quests within those, there will be upwards of 32 quests for game-players to solve.
Moving into the building previously occupied by Wizard Quest is Ripley's Believe It or Not! Museum. During the move, Ripley's will turn over nearly 100% of its exhibits to make way for new ones. In addition, the Wisconsin Dells museum will be the first Ripley's in the country to offer a personality test so visitors can determine their own personal "style" of weird.
Downtown Wisconsin Dells will also see enhanced dining options this season. Los Corrales, a new authentic Mexican restaurant, will occupy a 7,000 square foot space just three blocks down Broadway from the Ripley's museum. It will feature two stories and two bars with retractable doors that open to the sidewalk, offering a unique indoor/outdoor dining space.
For those seeking a nostalgic gaming experience, Asgard Underworld Arcade & Bar, a vintage arcade gaming venue, will open this spring in the lower-level space at the trendy Asgard Axe & Tap.
A Big-Name Short Course
There will also be new attractions for golfers in the Wisconsin Dells area this year, as Trappers Turn debuts a unique 12-hole "short course" designed by former U.S. Open winner Andy North. Called 12North, it offers par-3 holes ranging from 50 to 120 yards, with variable tee boxes that allow it to stretch further for scratch players. This highly anticipated addition features large, undulating greens, dramatic elevation changes, and routing over and around craggy limestone ravines, which give it a distinctly Wisconsin Dells flavor.
In addition, Trapper's Turn will open a fully lit one-acre putting course in mid-summer. Each of the 12 holes on the putting course can even be changed from one day to the next. Wine aficionados will appreciate Trapper's new 1,000-bottle wine cellar, a private gathering space in the clubhouse complete with sommelier and wine lockers for true connoisseurs.
Investing in Preservation
May 2021 will mark the much-anticipated reopening of the International Crane Foundation after a $10 million renovation and expansion. The Foundation is the only place in the world where one can see all 15 species of cranes. Its transformation includes a new welcome center, new exhibits, wetland habitats, murals by local artists, and an expanded gift shop.
History buffs will be drawn to Mid-Continent Railway Museum. Boasting its largest exhibit expansion in 40 years, it opens on May 8 for the 2021 season. Its new Laurence Dorcy Building features an expansive exhibit hall housing a 1905 steam locomotive, a 1925 gas-electric self-powered railcar and eight other rail cars from the late 1800s and early 1900s.
Aerial Adrenaline Options
Adrenaline seekers will find new options in the Dells area, as well. Chula Vista Resort added Soar Like an Eagle, a 10-story tall dual-racing zipline adventure where guests fly face-forward, superhero-style at speeds of up to 25 mph. This parallel zipline adventure is the longest racing zipline course in the USA. Also new to the Chula Vista Resort complex is a 15-story launch ride called The Ultimate Rush, planned to open Memorial Day weekend. It catapults two riders at a time into the sky before bouncing back to earth. These new amenities and recent resort renovations set the tone nicely as the Kaminski family celebrates 70 years of ownership in 2021.
Additional information, including the 2021 Wisconsin Dells Vacation Guide, can be found at http://www.wisdells.com.