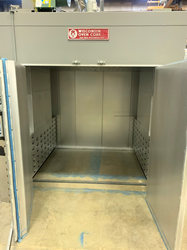 "This batch oven is designed with combination airflow to deliver the airflow uniformly through the load. An additional option for a port mounted in the oven side-wall was added to the overall design so the customer can pass their own sensors through the oven side-wall." Jeff Judd, Sales Engineer
EAST TROY, Wis. (PRWEB) June 02, 2020
The maximum operating temperature of the composite cure oven is 300° F and the work chamber dimensions are 6'0" wide x 6'0" long x 6'0" high. Combination airflow; provides both horizontal and vertical upward airflow, which maximizes heating rates and temperature uniformity of the product.
Unique features of this composite cure oven include:

60 kW heat input
20-gauge carbon steel exterior
Bi-parting, side-hinged, horizontal swing doors
4,500 CFM @ 5 HP direct-driven blower
Industrial board insulation with 1,200° F service temperature rating
Digital Eurotherm 3504 programmable temperature controller
IEC style motor starters, push buttons and pilot lights
Exclusive and Unprecedented 5-Year WOW™ warranty
This express batch oven was fully factory tested and adjusted prior to shipment from our facility. All safety interlocks were checked for proper operation and the equipment was operated at the normal and maximum operating temperatures. An extensive quality assurance check list was completed to ensure the equipment met all Wisconsin Oven quality standards. This equipment is backed by Wisconsin Oven's Exclusive and Unprecedented 5-Year WOW™ warranty (parts only).