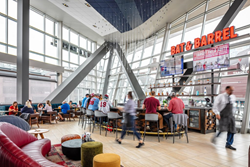 MINNEAPOLIS (PRWEB) November 01, 2019
Minneapolis, MN: On November 10th, Wisdom Gaming Group, an esports company specializing in producing esports events and content, will be hosting a League of Legends Worlds Finals viewing party at Target Field's Bat & Barrel & Delta Sky 360˚. Last year, the League of Legends finals drew over 200 million viewers worldwide. Representing a growing interest and momentum for esports events, the League of Legends Worlds Finals Viewing Party will be the first of its kind in Minnesota. The event brings together passionate esports fans and League of Legends enthusiasts for an opportunity to share their excitement for League of Legends with the larger gamer community.
In addition to enjoying the Words Finals with other League of Legends fans on 30+ screens, including the jumbotron, viewers will have the chance to win prizes and put their knowledge of the game to the test by participating in Worlds Bingo and Twitter Trivia. The first 100 entrants will also receive swag courtesy of WisdomGG and the Twins. Fans can also participate in a virtual reality experience powered by REM5. At the end of the event, there will be a grand prize drawing for a Twins branded gaming chair.
"We could not be more excited about the opportunity to bring together esports fans and celebrate the League of Legends community by hosting a watch party for the Worlds Finals," said Mike Zweigbaum, CEO of WisdomGG. "This event is really about the fans coming together and celebrating their passions while cheering on their favorite team in the Worlds Finals. We're looking forward to growing the esports event scene in Minneapolis and being able to provide more ways for fans to meet and get involved with their favorite games in a way they haven't had before."
The event is free for all ages and will run from 6am-1pm on November 10th. Tickets are required for entry and are available at wisdom.gg/events. For event sponsorship opportunities and inquiries, email Mike Zweigbaum at mike@teamifa.com.
About WisdomGG: Wisdom Gaming Group is a creative and consulting agency focused on bridging the gap between gamers and brands. Our esports division specializes in event production, media, and activation strategy. We also proudly tout an elite digital marketing division, to balance out and support the two leading needs in marketing today.