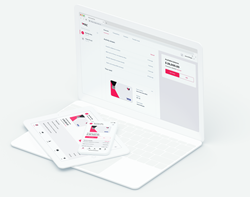 A modern business is like a jigsaw puzzle. First, you have to see the whole picture, then help the business owner put it together piece by piece. Wise gives them the banking and payments piece, designed to fit their evolving needs.
SAN MATEO, Calif. (PRWEB) April 29, 2020
Wise, a FinTech startup that offers banking and payments services to modern businesses, announced today that it has raised $5.7M in a seed round led by Base10 Partners' Rexhi Dollaku. Abstract Ventures, Backend Capital, The Fund, Two Culture Capital, and notable angels such as Michael Vaughan, Jonathan Weiner, Lawrence Chu, Inaki Berenguer and others also participated in the round.
"Modern businesses are increasingly digital, but their banking experience is still frustratingly physical," said Arjun Thyagarajan, Co-Founder and CEO of Wise. "Businesses that bank with Wise get access to their hard earned cash faster, in a delightful, modern banking experience that's designed for them - all without ever stepping foot in a bank branch."
Pushkar Phatak, owner of e-bikes store Watt Wagons that is built on Shopify, commented, "Wise has changed how I run my business. With Wise, I can access my business' cash faster, and it's integrated entirely into my Shopify experience. Now I can worry less about banking and spend more time on what I enjoy - building bikes."
"We are excited to embed our banking functionality directly into digital platforms or ecosystems that create or service businesses, like Shopify," said Arjun. "For too long, these platforms have forced their customers to work with banking providers that are not designed for their business or integrated into the platform. We will be launching more of these platform developer tools so that digital platforms can, for the first time, create a modern, delightful banking experience for their customers too."
In addition to the funding, Wise is excited to welcome Raghav Lal - former Chief Credit Officer at American Express and General Manager of Small Business at Visa - as President. Raghav commented, "Over the last two decades, I've proudly served small businesses. I look forward to working closely with Arjun, executing on Wise's vision of embedding banking functionality into digital ecosystems, and ultimately helping small businesses accelerate their cashflow and succeed."
"Wise is making huge strides in redefining banking for the real economy, and we are excited to be investing and supporting that change," said Rexhi Dollaku, Principal at Base10 Partners. "We believe Wise's banking experience has the potential to create a category-defining company, and we are thrilled to enable our online platform partners to provide a better banking experience and ultimately serve their customers better."
This announcement follows the launch of Wise's FDIC-insured business checking account in partnership with BBVA. Wise now powers over a thousand modern businesses. Wise's mission is to be alongside ambitious businesses, every step of the way.
About Wise
Founded in December 2018, Wise, a Techstars NYC company, headquartered in San Mateo, CA, is a FinTech that offers modern businesses a seamless way to bank, pay, and get paid without any anxiety, frustration, or hassle. Wise embeds its all-in-one banking solution, making it readily available in platforms and marketplaces to help businesses get ahead financially. For more information about Wise and its products, visit wise.us.
About Base10 Partners
Base10 is an early-stage venture firm investing in Automation for the Real Economy. Founded by Adeyemi Ajao and TJ Nahigian, the firm focuses on Automation impacting many sectors of the Real Economy, including transportation, hardware manufacturing, logistics, and construction. Notable portfolio investments include ThePillClub, Shipwell, Reflektive, and Wonolo. Headquartered in San Francisco, Base10 currently has $137M in assets under management. Connect via base10.vc.