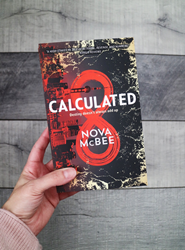 LAS VEGAS (PRWEB) February 11, 2021
Wise Wolf Books, the new Teen/YA imprint of Wolfpack Publishing, announces the release of their debut title, Calculated by Nova McBee.
Calculated, pitched as a modern-day gender-bent Count of Monte Cristo meets Mission Impossible and set in modern Seattle and Shanghai, features a teen mathematical prodigy, Jo Rivers, who is kidnapped and forced to use her gifts to shore up a criminal empire. With help from an old Chinese sage, a billionaire businessman and his handsome son, Jo escapes and vows to put an end to the clandestine empire. Under a new identity, she must choose whether to seek revenge on her enemies or keep her vow.
"When it came to our first release, we wanted to make a big splash. Calculated is just the book to do that," publisher Rachel Del Grosso says. "We're excited by the early attention the book has received, and hope that translates through the rest of the series, and beyond."
Just three months into its inaugural year, Wise Wolf Books has successfully signed five author agreements and sixteen new projects to its growing list. In addition to the imprint's first release, Calculated (February 2021; ISBN 9781953944504), Wise Wolf Books will soon publish the second title in the Calculated series, Simulated (May 2021; ISBN 9781953944504), Runaway Train (April 2021; ISBN 9781953944047) by Lee Matthew Goldberg, Off Trail (June 2021; ISBN 9781953944528) by Rick Polito. Also scheduled for release in 2021 is a three-book coming-of-age series by Cara Thurlbourn and a four-book contemporary romance series by Chelsea Bobulski.
Lee Matthew Goldberg is the author behind the thriller novels, The Ancestor (2020) and The Mentor (2017). Runaway Train, Goldberg's first foray into the young-adult market, is set in the early '90s, charting the journey of an aspiring grunge singer who goes off the rails when her sister dies of a sudden brain aneurysm and runs away at the encouragement of her delinquent friends to accomplish every item on her bucket list, culminating in showing up at Kurt Cobain's house.
Debut author, Rick Polito's Off Trail, pitched as Paper Towns meets The Spectacular Now, is a humorous story in which a 15-year-old's parents find his sister's marijuana stash in his closet and send him away to a wilderness therapy program.
Cara Thurlbourn's first release, The Boy Who Lived In The Ceiling, is about a homeless boy with a dark secret.
Author of The Wood (2017) and Remember Me (2019), Chelsea Bobulski's All I Want For Christmas is a holiday series pitched as It's a Wonderful Life meets Wish Upon A Star and will appeal to all the Hallmark movie lovers out there.
"Our debut titles perfectly reflect our goal of publishing books that allow readers to be simultaneously transported from their lives while also recognizing themselves in the characters they read about," says Del Grosso. "We are so lucky to have the opportunity to be intentional about the partnerships and projects we develop. Each of the authors we have signed on so far bring something unique and special to the table."
Wise Wolf Books publishes books within the following Teen/Young-Adult genres: contemporary fiction (not including fantasy/science-fiction), mystery, thriller/suspense, and action-adventure from writers of all genders, ethnicity, race, and ability, and is open for submissions, particularly those in a series, from all regions of the world.
Additional information can be found on WiseWolfBooks.com, or follow at @wisewolfbooks on Instagram and Twitter.
About Wise Wolf Books
Based in Las Vegas, NV, Wise Wolf Books is a new publishing imprint under the ever-growing Wolfpack Publishing umbrella, targeting a Teen and Young Adult audience. With over 30 years of online and off-line marketing experience, Wolfpack, formed in 2013 to bring both established authors and new authors to the market, is as much an online marketing company as it is a hybrid publishing company. It has embraced the rise and opportunities created by online bookstores and their limitless, virtual bookshelves which have not only fueled the growth of e-books but, have also eroded much of the pre-existing differences between front list and back list books, which are now side-by-side on today's largest virtual bookshelves. Wolfpack is also home to the Christian imprint, CKN Christian Publishing, launched in 2018. More information can be found at wolfpackpublishing.com or wisewolfbooks.com.