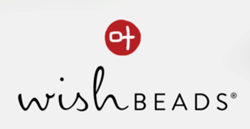 These African seed bracelets are a reminder that seeds have everything that is inside of it to grow, but it needs the right conditions.
SANTA MONICA, Calif. (PRWEB) February 04, 2021
Wishbeads has released their newest designs to the Wishbeads collection, featuring African Glass Seed Beads that are handmade by artisans Ghana, Africa. Each 4mm seed bead is unique in both color and shape and each style features brass Heishi faceted beads from the Wishbeads Shine collection. Worn alone or paired with your favorite Wishbeads bracelets, they are delicate reminders of your deepest desires.
Using centuries-old techniques that have been passed down from generation to generation, each glass seed bead is made by compressing the glass into a fine powder, poured into a tiny mould, and heated until it takes the shape of a seed bead. Then the bead is shaped with a metal spindle that creates a hole in the bead, so the bead maker can shape the bead. Vibrant colors and unique shapes of each bead create one-of-a-kind pieces.
Wishbeads is more than just a stylish piece of jewelry. It reminds the wearer about their wishes, dreams, and goals. Founded and designed by Alexa Fischer - an actress, coach, author, and motivational speaker – Wishbeads has a mission to help people pursue their dreams, build their confidence, and create the life they want.
Each Wishbeads bracelet and necklace, comes with small slips of paper to write down your wish. Then, you roll it up and tuck it inside the secret compartment, so you carry around a daily reminder of your wish. These beautiful daily reminders help each person to stay focused, take action, and turn dreams into realities.
Each Wishbeads bracelet includes:
● Handmade glass seed beads
● Solid brass cylinder and screw cap
● 5 wishpapers
● Hand strung beads and cylinder
● Bracelet lengths 18.5cm - 18.75cm
"These African seed bracelets are a reminder that seeds have everything that is inside of it to grow, but it needs the right conditions," said Alexa Fischer, founder of Wishbeads. "Your wish is like a seed, which means it needs care and attention! When you see your wish in vivid detail, nourish it with your attention, and take consistent action, just like a seed, your wish will grow."
Fischer's new 2021 line provides another stylish option to wear your wish and experience the beauty of your dream transforming into reality. Each time you see your African Seed Wishbeads bracelet, you'll remember to tend to your wishes with love so that your wish will blossom.
Wishbeads are available for purchase at wishbeads.com and UncommonGoods, or at a store near you.
About Wishbeads Founder, Alexa Fischer
Wishbeads founder Alexa Fischer is an actress, confidence coach and motivational speaker on a quest to give wishes the power they need to become reality. Fischer, who describes her work as helping people to tap into their own greatness, has appeared in many prime-time television shows including NCIS, CSI, Numb3rs and Bones. Employing techniques she learned on the set and at the Yale School of Drama, Fischer teaches private clients, Fortune 500 companies and philanthropic organizations how to connect effectively to achieve personal and professional goals. She's been featured in Fast Company, Forbes Women, numerous podcasts and an appearance on The Today Show. Learn more at wishbeads.com and alexafischer.com.