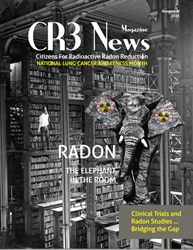 To see what is in front of one's nose needs a constant struggle ... George Orwell.
WATERLOO, Ill. (PRWEB) November 05, 2021
According to data from New Choice Health, the price range for a conventional chest CT scan is between $350 to $6,750, putting the national average price at $3,275. Lung cancer or cancer that starts in the lungs is the leading cause of cancer death in the United States, with smokers at greatest risk for contracting the disease. Radon-related lung cancer kills over 21,000 people per year in the U.S. Lung cancer remains the leading cause of cancer death, with a 2020 estimate of 2.21 million cases deaths per year according to the World Health Organization.
"The studies to make a case for considering radon gas as a major oppressor are there," says Jackie Nixon, CR3's Pennsylvania radon advocate and stage one lung cancer survivor. "It's time to start bridging the gap by tying the exposure to elevated levels of radioactive radon to the necessity of low-dose CT scans for at risk individuals. My cancer was found early, the tumor removed; and I didn't even need chemotherapy, radiation or medication! This can be done for many which would reduce deaths and medical costs. If we could ask the 21,000 people in the U.S. that died from radon-related lung cancer what they would say, they may respond, 'Why didn't we know'. Early detection through a CT scan can help reduce costs and deaths from lung cancer."
In particular, a 2016 NIH cost comparative study for lung cancer treatment typically involves one or more of the following approximate cost options, alone or in combination: surgery which can cost $15,000 or more; chemotherapy, which can cost $10,000 -$200,000 or more; radiation therapy, which can cost $10,000-$50,000 or more; and/or drug therapy, which can cost as much as $4,000 or more a month depending on the drug used. The 2021 Annual Report to the Nation on the Status of Cancer finds that cancer patients in the United States shoulder a large amount of cancer care costs. In 2019, the national patient economic burden associated with cancer care was $21.09 billion, made up of patient out-of-pocket costs of $16.22 billion and patient time costs of $4.87 billion. Patient time costs reflect the value of time that patients spend traveling to and from health care, waiting for care, and receiving care, according to the report. While this analysis is about the costs that are directly incurred by patients, which are critical to patient finances, the total overall costs of cancer care and lost productivity in the United States are much larger.
Gloria Linnertz, Founder of Citizens for Radioactive Radon Reduction stated, "Not only should CR3 educate homeowners, renters, school officials, and physicians about the danger of radioactive radon exposure and encourage them to test to determine the radon level in their environments, but we must strive for increased awareness and encouragement for the recognition of low-dose CT scans for individuals with long-term and or high levels of radon exposure.
CR3 will ramp up radon their "Do The Ask" awareness campaign with increased dissemination of information that will include encouraging people in high-risk radon areas to ask their doctors about radon testing and early detection measures like low-dose CT Scans. We hope to electronically distribute the newly developed National Radon Action Plan to health departments throughout the nation and to supply cancer centers and primary care physicians with the revised version of "Reducing the Risk from Radon! Information and Interventions A Guide for Health Care Providers". http://www.radonleaders.org/sites/default/files/2020-11/HCProvGuide%20Update%209-17-20.pdf
#LungsWorkFromHome
CR3 News Magazine 2021 VOL 4: November "National Lung Cancer Awareness Month: "The Elephant in the Room"
Direct Link: https://joom.ag/PQEI
CR3 News Magazine Newsstand: https://newsstand.joomag.com/en?q=CR3+News+Magazine
Facebook: https://www.facebook.com/citizens4radonreduction.org
info@citizens4radonreduction.org