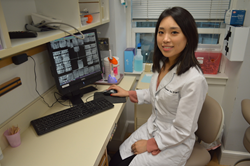 Newton Dentistry provides emergency dental care for patients who need urgent help.
NEWTON, Mass. (PRWEB) March 25, 2020
As of now, it looks like most of us are stuck at home with a new "shelter-in-place" order from the State of Massachusetts. There are things patients can do to get urgent dental care help, if they are in a dental emergency. As per the new law, all non-essential employees need to stay at home, but what if you need emergency dental help. Newton Dentistry provides urgent dental care needs for patients in a dental emergency. For more information, you can visit http://www.newtondentistryma.com.
A dental emergency would be constituted if you have any of the following:
–Tooth pain: Nerve pain or jaw pain from eating or talking
–Dental abscess: Swelling of the face or gums, dental abscesses can lead to serious infections if not treated immediately
–Lost dental filing or crown
–Broken tooth: If you have a broken tooth, it is best to see a dentist as soon as possible to prevent risk of infection or further damage
–Sore jaw: Experiencing pain opening or closing your jaw or the muscles surrounding the jaw are sore
"Newton Dentistry provides emergency dental care for patients who need urgent help. Our multi-speciality dental office is equipped to bring the most comprehensive dentistry to patients." says Dr. Yoon Ji Jang DDS, a General Dentist at Newton Dentistry .
About Newton Dentistry
Newton Dentistry is a multi-specialty dental clinic that has been serving patients in Newton, Waltham, Weston, Waban, Auburndale and other surrounding areas. The dental office offers patients such services as crowns, mouthguards, teeth extractions, dental implants, bonding, bridges, TMJ, root canal therapy, teeth whitening, and invisalign.
Dr. Yoon Ji Jang, DDS
Dr. Yoon Ji Jang DDS is a Board-Certified General and Cosmetic Dentist. Dr. Jang majored in Biology (BS) from the University of Washington in Seattle and received her Doctor of Dental Surgery degree (DDS) from the University of Michigan School of Dentistry. Since Dr. Jang has been treating patients of all ages, she understands different needs for each patient. She is a member of American Dental Association (ADA) and Massachusetts Dental Society (MDS).