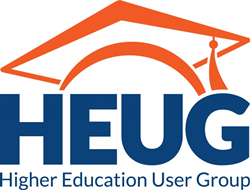 HEUG kicks off a new organizational model, improving member education and advocacy for a broader spectrum of products.
MESA, Ariz. (PRWEB) January 06, 2021
The Higher Education User Group (HEUG), the largest international user group of its kind, announced a business model shift designed to increase and improve the services and information provided to its members while continuing to focus on education and advocacy.
Based on the feedback from its higher education and public sector members, the HEUG will now expand its portfolio of vendor partners, creating additional access to current information on technologies, services, and strategies that better align with what is happening at their institutions. This new approach will allow members to participate in a unified conference and organization, where business owners and users can meet and collaborate with technology and solutions partners across platforms, merging strategy with innovation and maintenance.
This decision now allows HEUG to expand its education and advocacy services to cover multiple vendors. HEUG Vice President of Technology, Terence Houser (University of Virginia) said, "Leaders need the perspective of multiple solutions, strategies, and lessons learned as they seek to solve issues in support of their mission."
Michael Busges, Sr. Director, Enterprise Projects at Pennsylvania State University agrees, "Because Penn State is a university that utilizes products from multiple vendors, we are very pleased with this new HEUG model! Being able to have one organization that we can align with regardless of the product will be much more efficient."
The annual Alliance conference will now include additional sessions from a wider vendor base in addition to augmenting more member sessions on topics such as cross-application support and integrations. Jason Koziara, Vice President of Alliance (DePaul University) stated, "Vendor inclusivity positions the Alliance conference as the premier global event where higher education and public sector professionals can network, share practical knowledge and get the crucial full breadth of multi-vendor information that they will need to navigate the challenging road ahead."
Matthew Sherman, General Manager – Workday Student added, "Workday is thrilled to support and partner with the HEUG community. The Workday Student team is excited to add yet another opportunity to hear from our customers, educate subject matter experts on the value the Workday platform delivers to campuses, and connect with the greater higher education community."
Vicki Tambellini, President, and CEO of a leading independent industry analyst firm, also noted, "The HEUG's response to their members' changing needs allows them to remain relevant to constituents as they evaluate and expand technology portfolios. Tambellini's research confirms that institutions seek to maximize investments in existing solutions while improving student outcomes and access to reliable information for decision-making, among other priorities. We are excited for the HEUG and its members who can access and share information across a diverse group of users and vendor solutions."
The HEUG will continue to partner with their longtime sponsor Oracle. "Oracle is deeply committed to its long-standing relationship with the HEUG. Over the last three decades, our customers have found the opportunities it affords them for community building and knowledge sharing to be invaluable. We support the HEUG's endeavor to transform itself into an industry association as it will bring more resources to help member institutions collaborate on the industry's most pressing issues," said Nicole Engelbert, Oracle, Vice President, Higher Education Development.
Huron also supports the HEUG's continued partnership with Oracle, "The HEUG has built a thriving member community, of which Huron is proud to have been part of since the organization's inception. We look forward to continuing that collaboration as we educate members about technology solutions and services that foster organizational resilience and agility in higher education," commented Ryan McDaniel, managing director of Huron's Oracle business.
"Our first priority has been and will continue to be supporting our customers. The next decade will bring tremendous change to higher education, making institutional agility and resiliency vital to long-term success. Consequently, effective product support must include deeper and richer education about technology strategies and building sustainable capacity for innovation," said Nicole Engelbert, Oracle.
Robert Steele, Workday, Vice President – Higher Education said, "Workday is excited to support the reimagined mission of the HEUG and its vibrant community of member institutions. We look forward to bringing awareness to the members by demonstrating how Workday's Finance, HCM and Student applications deliver value to institutions in times of change."
Jason Moebius, managing director of Huron's Workday business added, "Our Workday team is excited to become an integral part of the distinguished HEUG community. We are committed to sharing our deep Workday and higher education expertise and build on the collective knowledge of the community to help institutions grow and thrive in the future."
HEUG President Jason Wenrick (California State University) added, "We believe this will provide future opportunities to support and engage with our global communities and look forward to adding additional strategic partners. Currently, we are in active conversations with Salesforce, Unit 4, Ellucian, Anthology, and Accenture as well as others, and look forward to bringing them into the HEUG community soon. Our intent is to continue to grow the support community to make the value proposition for our members even greater; and as our membership continues to grow and change, so too shall the HEUG evolve to meet those needs."
About the Higher Education User Group
The Higher Education User Group™ (HEUG™) is a Non-Profit, international organization consisting of Higher Education institutions and Public Sector Organizations. HEUG's mission is to educate and advocate by facilitating the sharing of ideas, information, and experiences among its members, and to provide a unified and effective independent voice to our system partners. The HEUG represents over 32,000 members across 900 campuses in 37 countries across the globe. It includes a wide range of institutions, from community colleges, to small liberal arts colleges, to large research universities and state university systems. For more information, please visit https://www.heug.org.