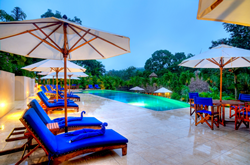 More than ever, people want to get away to relax, recharge, and reconnect.
SAN IGNACIO, Belize (PRWEB) September 16, 2020
For The Lodge at Chaa Creek's health and safety officer, the last six months have been busy. And he's even busier now that Belize's Philip Goldson International Airport is slated to reopen on the first of October, 2020.
"Even though we've been effectively closed for some time now, these last few months have been anything but slow," Brion Young said.
"With such a wide range of accommodations and amenities, tropical gardens and miles of trails running through our 400-acre private nature reserve to maintain, many of us have been just as busy as we usually are during high season," he explained.
"Without guests, it's a very different sort of busy, but it's busy nonetheless," he added.
Even though Belize was initially successful in keeping the global Coronavirus pandemic at bay, largely due to swift action on the part of the government and tourism stakeholders, it was only a matter of time before the virus found a way in, Mr Young explained.
"Being a small country with a low population density, a long Caribbean coastline and huge areas of protected, unspoiled wilderness, at first it looked like we had the situation under control.
"But as the number of COVID cases increased all over the world, isolation became impossible. We all did our best, and Belize was the last country in the Americas to remain COVID-free. Slowly but surely, however, cases appeared and we were forced to shut down.
"Now the job is to get back up and running, but in the safest, most responsible way possible. We're being cautious and playing the long game," he said.
In addition to enacting legislation to control the borders and manage domestic interaction, Belize's Ministry of Health and the Belize Tourism Board (BTB), put in place measures to safeguard visitors, workers and the local communities that make up Belize's nature-based, sustainable tourism industry.
The most significant of these measures is the "Tourism Gold Standard Recognition Program", which includes rigorous requirements that the hospitality industry, including resorts and hotels, must meet in order to be certified.
The Lodge at Chaa Creek and its transport and tour branch, Chaa Creek Inland Expeditions, were among the first companies to achieve that certification.
The entire nine-point Gold Standard Recognition Program is available on the Belize Tourism Board website. One requirement that certified resorts and hotels must meet is an ability to provide a range of "full service" amenities to guests, so that a complete, satisfying vacation can be had right at the property.
"We were fortunate that, by nature, Chaa Creek was able to meet and even exceed the requirements," Mr Young said.
"From pickup to drop-off at the international airport, our guests are completely looked after. And with amenities that include a restaurant, pool and spa, as well as a wide range of activities like hiking, canoeing and horseback riding, all within 400-acres of pristine rainforest, visitors can experience the best of Belize without leaving Chaa Creek," he explained.
And for those guests who wish to venture further afield, the Gold Certified Chaa Creek Inland Expeditions is available for tours to ancient Maya temples and other attractions, he added.
All-inclusive Caribbean beach and reef packages with Chaa Creek's gold certified partner resorts are also available, allowing guests to seamlessly and securely travel between an inland jungle lodge and Gold Certified Caribbean resorts.
"We're excited to see Belize open back up to travel, and in a way that prioritises everyone's health, safety, and wellbeing.
"We also appreciate that, more than ever, people want to get away to relax, recharge, and reconnect. And with farm-to-table dining, healthy activities, and casually luxurious amenities; all with built-in distancing and other measures in place to guarantee a carefree visit, our guests can do just that.
"In addition, our luxury suites and villas offer personal butlers to organise in-room and alfresco dining, spa treatments and other services for an additional level of comfort and security," Mr Young added.
He encouraged travellers to visit the BTB and Chaa Creek websites for more details, further information and updates.
"People can also contact us directly through the Chaa Creek website, and one of our inhouse Belize travel and vacation consultants will answer questions and help plan the safest, most carefree and enjoyable visit anyone could wish for.
"We're looking forward to reopening our rainforest home, and making sure that Belize and Chaa Creek continue to provide the experiences people have come to expect from us," Mr Young said.
Family owned and operated for forty years, The Lodge at Chaa Creek is a multi-award winning eco resort set within a 400-acre private nature reserve along the banks of the Macal River in Belize. It was recognised by National Geographic with first place honours at the 2017 World Legacy Awards held in Berlin.