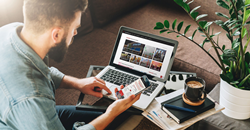 It's important to think about what a particular franchise might mean for your lifestyle, family, work schedule, interests, values, and ethics—not just how much money you might make.
SAN JOSE, Calif. (PRWEB) August 14, 2019
Looking for a franchise opportunity? Beard Papa's, a 20-year-old Japanese pastry concept with more than 400 locations worldwide, is now targeting the U.S. with plans to open 300 stores by 2024. Or, if you'd like to avoid indulging your sweet tooth, there's Anytime Fitness. In 2017, it was the first U.S. fitness franchise to be granted a license to franchise in China. By 2020, the brand anticipates 300 to 500 gyms in the country. Other franchise categories look strong, too: The senior care franchise industry has grown by roughly 65% over the past 10 years. The question is: How do I know which franchise opportunity is right for me?
Just about any industry you can think of is represented in the franchise world. Food, retail, and service franchise opportunities come in nearly every style, size, and business model you can think of. Start by looking for the one that matches your skills and interests.
Jeffrey Tews, for example, knew he wanted a franchise to be centered on helping others and their families. Senior care resonated with him and his wife, Susan Rather, because they could see the need in their own families. The couple went through the discovery process with four franchise brands, but they didn't click. Eventually, the couple met with a franchise broker for some special guidance and they found Shelly Sun, CEO and co-founder of BrightStar Care. It was a good match. Jeffrey and Susan opened their first franchise location in Wisconsin in October 2006 and paid themselves back their initial $100,000 investment by February 2008.
It's also important to think about what a particular franchise opportunity might mean for your lifestyle, family, work schedule, interests, values, and ethics. For instance, find out if the franchisor's vision of growth aligns with yours. Talk with at least half a dozen of its franchisees in order to find out what their experience with the franchise has been. Seek out franchisees who have owned their franchise for different lengths of time—ones who have owned for less than two years, two to five years, five to 10 years, and more than 10 years.
Anthony Kulikowski, a Five Star Painting franchisee in Indiana, looked closely at franchise longevity. "Make sure the brand has a proven record of success. Find out how many years it has been in business, what the average franchisee success rate is and what kind of support you will receive."
Another useful tool is the Franchise Disclosure Document (FDD). The FDD outlines what the franchisor will do for you, what they will expect of you, financial information, information about franchise performance, contact information for current franchisees, and much more.
The FDD can also clue you in to potential issues in the franchise opportunity you're considering. Item 3 of the FDD outlines the details of any current litigation the franchise company is facing or bringing against a franchisee or other parties. Consider it a red flag if the franchisor has an extensive history of litigation involving franchisees. Review item 20 of the FDD to understand how many units have closed and the underlying reasons for failure. Dividing the number of closures by the number open for business will reveal the success rate. You do not want to invest in a franchise with a low success rate.
Where do you live—or want to own your franchise? Texas may be best or Rhode Island the worst. That's according to the findings of personal-finance website WalletHub. It compared all 50 U.S. states across 26 key indicators of business startup success to identify the most fertile grounds to launch and grow a business. It's critical information for multi-unit franchisees looking to expand into other states. The study examined everything from financing accessibility to the availability of human capital to office-space affordability. Iowa has the cheapest average annual rent for office space, $12.08 per square foot. That's 2.2 times cheaper than in New York, the most expensive state for office space rental.
Franchise Update Media also looks hard at how franchisors interact with its franchisees—another element in how well a franchise opportunity might play out. Franchise Update Media's annual STAR Awards recognize the country's top franchise sales teams. Winners are evaluated on their franchisee recruitment, online inquiry follow-up, telephone mystery shopping, social media performance, recruitment websites, and franchisee satisfaction. The company's expert research team evaluates franchise development team responses to determine which brands are the best performers and where improvements are needed.
The franchising industry is working to make franchise opportunities easier to find for certain groups of people. VetFran, for instance, was created in 1994 and sponsored by the International Franchise Association to help veterans achieve ownership of a franchise business. VetFran offers financial incentives to honorably discharged U.S. veterans, and many franchisors participate in the program.
Read Franchising.com's Guide to franchise opportunities at:
https://www.franchising.com/guides/
About Franchise Update Media | Franchising.com
Franchise Update Media has been a leader in the franchising space for more than 30 years. Founded in 1988, the company produces online franchise opportunity and educational websites, two print magazines, four newsletters, four conferences, independent research, and books, all focused on franchising. Targeting franchise audiences online, in print, and in-person, Franchise Update Media delivers a unique combination of educational and lead generation sources to help franchisors, multi-unit franchisees, opportunity seekers, and suppliers achieve their growth objectives. For more information, visit Franchising.com.