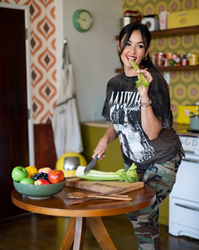 The first step in meal prepping is creating a menu! This will simplify your grocery list and allow you to walk into the grocery store with a plan. This will also help you avoid overspending as well.
LOS ANGELES (PRWEB) December 01, 2022
Kora Bruno, the celebrity chef and nutrition expert, provides 10 solutions for meal prepping at home that helps to beat the high inflation rates affecting many individuals and families nationwide.
Bruno is a First Nations Cree woman best known for her guidance and meal prep for The Bachelor's Colton Underwood, actor Michael B. Jordan (Creed 2) and contestant Hayley Herms (Khloe Kardashian's Revenge Body). They trusted her to help them prepare for their roles and improve their lifestyles.
Here are Bruno's easy-to-implement tips on crafting home-cooked meals in today's economy --
1. The first step is planning a menu. This will simplify your grocery list and allow you to walk into the grocery store with a plan.
2. Whip out that crockpot! Utilize some of the funky household gadgets to make meal prep easier.
3. Prep three different proteins and sides to give you some variety to choose from for your meals.
4. Breakfast tends to be the meal everyone skips. Make yummy items like egg bites or breakfast burritos that you can reheat quickly or place all your smoothie ingredients in a Ziploc to blend easier.
5. When it comes to sides, have a couple of options to stay energized. Make a pot of rice and a side of potatoes or various roasted veggies. Sometimes, you can skip making the rice and buy instant rice pouches to reduce cooking time.
6. Who doesn't love the convenience of a good sheet pan dinner? This simplifies the cooking process so you feel free from meal-prepping all day.
7. Portion your meals with a palm of protein, a fist of carbs, and a fist of veggies.
8. Choose colorful ingredients. We eat with our eyes first!
9. Purchase pre-chopped ingredients or pre-seasoned meats. These small ways can make the whole process so much easier.
10. Start with a clean kitchen. It feels much better to know that everything you need is already clean and ready to use.
Bruno understands the challenges and mindset needed to get in shape and live a healthier, attainable lifestyle. Her dietary and nutrition background and her personal training experience give her a unique perspective. For more information on Bruno, visit http://www.koraleebruno.com.