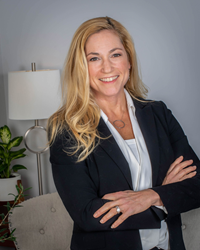 I look forward to unlocking exponential value with SRDS via technology and strategic partnerships as we aim to further transform audience-first buying practices for brands and agencies.
NEW YORK (PRWEB) November 17, 2020
Media platform SRDS (srds.com) has announced the appointment of two leading executives, with Heather Petaccio appointed President and Yigael Chetrit being named Global Chief Technology Officer. These new leaders are charged with driving digital transformation and innovation of SRDS following its acquisition by Adwanted Group from Kantar earlier this year. By leaning into its position as an industry standard and enabler of media buying decisions across every platform, Petaccio and Chetrit are focused on transforming SRDS into an end-to-end platform that facilitates media planning and buying, and enables agencies to reap the full benefits of the digital ecosystem. Petaccio and Chetrit will report into Emmanuel Debuyck, CEO of SRDS parent company, Adwanted Group.
"As we identify our longer-term business goals and continue to transform SRDS into a cutting-edge digital player, I'm excited to welcome both Heather and Yigael to our team. Our vision of the future for SRDS is centered on providing a new and improved experience for brands and agencies while evolving the media planning and buying landscape," said Debuyck. "I look forward to working with a strong diverse team led by Heather and guided by an experienced technologist as Yigael. Together, they're setting an industry standard in data to drive intelligent media decisions and embrace innovation and modernity."
Petaccio and Chetrit will drive SRDS' focus on innovating both the platform and transforming how the industry engages with their essential data, which has been a foundational resource for media buyers, planners and media properties. Under their leadership, SRDS will be adding valuable integrations of parent company Adwanted's proprietary technology ecosystem, as well as via strategic platform partnerships. The ultimate vision is to unlock additional value for SRDS via new offerings and modern solutions and by connecting with new markets that have changing needs.
"As a strong female leader Heather's added background in coaching and management training is especially important to our future as we position SRDS for growth. She is fostering a culture centered on professional development and team-building where talent is preserved, aligning everyone to the same goal," added Debuyck.
Petaccio brings deep knowledge and an industry network, having previously held senior roles at SRDS from 2011 to 2017, leading the sales team, forging relationships with the holding companies and working to increase the presence of the SRDS brand. Most recently she headed leadership assessments and coaching at Multi-Health Systems Inc., as a Talent Solutions Consultant. Debuyck will continue to oversee Adwanted Group globally while Petaccio focuses exclusively on the growth of the SRDS business. Petaccio will lead the overall business strategy for SRDS, helping to drive revenue and build momentum through new product offerings.
"I'm thrilled to be joining the SRDS team again," said Petaccio. "For decades, SRDS has powered media buying and planning across every form of media and the connective tissue uniting media buyers and sellers. I look forward to unlocking exponential value with SRDS via technology and strategic partnerships as we aim to further transform audience-first buying practices for brands and agencies."
Chetrit first joined SRDS as a consultant in 2020, helping to identify opportunities for future growth, which evolved into his new position as Global Chief Technology Officer, ensuring that SRDS continues to grow globally by further developing technologies and building future projects. Chetrit joins SRDS from Mindshare. As Senior Partner, Managing Director, Technology, he led the architecture and development of data and analytics enterprise applications across the agency, while defining company vision, driving team execution, and overseeing the architecture and engineering processes.
"I'm excited to take on this new role at SRDS," said Chetrit. "As we look to develop new technology solutions across regions, I aim to elevate the SRDS platform and continue to set the industry standard for the importance of good data as we bring positive outcomes to media planning and buying."
About SRDS
SRDS is the industry standard for media planning and buying, providing agencies and brands with comprehensive and efficient means to incorporate digital and traditional media into modern audience-first buying practices. For publishers, SRDS is a powerful revenue driver that helps them to connect with media buyers efficiently and effectively. Its platform is comprised of inventory from over 125,000 media brands. For more information, visit srds.com. SRDS is part of the Adwanted Group.
SRDS: Where Media Decisions Are Made.
Contact
Kite Hill PR for SRDS
Moira Shannon
moira@kitehillpr.com