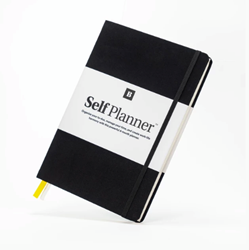 Time is your most valuable resource. Successful people understand this principle, which is why they spend each minute wisely.
NEW YORK (PRWEB) September 05, 2019
Today BestSelf Co., the leader in innovative productivity and self-improvement products, announced a new product: the Self PlannerTM. Created as a complement to their award-winning SELF JournalTM, the new six-month planner has been released in advance of the holiday season to help shoppers looking for a practical, thoughtful gift for anyone whose work or personal life could use an organizational boost.
Designed to help people see their own big picture by helping them organize their to-dos, Self Planner goes a step further by providing proven methods to manage time and create work-life harmony. "This powerful planning tool empowers you to master your time, focus on what's important, and take control of your life," said CEO and co-founder Cathryn Lavery. "Too many people spend life thinking day-to-day, or even minute-to-minute. Our new planner invites you to take a step back and look at how all these activities are supporting a more productive, fulfilling and organized life. We need to learn tools to prioritize, and to remove habits that make us less productive."
Features of the Self Planner:

Designed using feedback from existing customers
Uses the proven BestSelf BenchmarkTM tool and the six principles that propelled the Self Journal to incredible success: >Goal setting, heightened time awareness, productivity, positivity, consistency, and multi-level planning
Minimalist, clutter-free style
"Freedom pages" make the process structured but flexible enough to meet each person's needs
Lavery reminds customers: "Time is your most valuable resource - more valuable than money, of which you can always create more. Each day you wake up with 1,440 minutes to convert into meaningful achievements and wins. Successful people understand this principle, which is why they spend each minute wisely."
This sentiment was echoed in a recent Harvard Business Review study in which college students were asked to rank their priorities, including time and money. Those who ranked time as more important than money reported they were happier with their career choices than those who prioritized money: "Our results provide strong evidence that valuing time puts people on a trajectory toward job satisfaction and well-being. Why? After graduation, students who valued time over money made career decisions for different reasons. Whether they chose to enter the workforce or enroll in graduate school, they were more likely to report that they were working at something they 'wanted to do' as opposed to something they 'had to do.'"
Unlike most other planners, when used daily, the planner becomes a springboard for freeing up bandwidth, creating space for mental clarity, and getting organized in a world of stress and distractions.
The new BestSelf Co. Self Planner is now available online at BestSelf.Co.