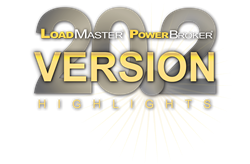 With Version 20.2, McLeod Software has completely re-engineered their web access portals for LoadMaster and PowerBroker in ways that help McLeod customers create a better branded internet presence for their company and a better experience for their customers, carriers, and drivers.
BIRMINGHAM, Ala. (PRWEB) August 17, 2020
New Internet Portals Give Customers a Whole New Experience
With Version 20.2, McLeod Software has completely re-engineered their web access portals for LoadMaster and PowerBroker in ways that will help McLeod customers create a better branded internet presence for their company, and more importantly, create a better experience for their customers, carriers, and drivers.
Recruiting and Driver Applications Made Easy
Driver applicants can fill out an application via the carrier's website with just a few clicks. When the driver completes the online application, a Driver Application record is created directly in LoadMaster, and the hiring process starts.
Customer Portal
The McLeod system's new Customer Portal provides the carrier's or broker's customer with real-time access to all of their load information 24 hours a day, 7 days a week. This new customer portal provides assigned logins to customers, so they have secure access to their orders, delivered and in-transit shipments, with a variety of display options to enhance their experience and response time. The portals give customers the ability to easily download document images with retrieval options.
Map views are available on orders displaying plotted mobile comm positions or positions from callin records. The visibility of orders reduces the need for calls and emails into the carrier or broker's dispatch for ETA and "where's my truck?" type calls.
Driver Portal
With the new Driver Portal for carriers running the McLeod LoadMaster dispatch system, drivers get a secure login for instant access to their settlement and pay information. If a carrier elects to use the LoadMaster Driver Choice module, drivers have immediate access to the available matched loads that fit their choices in a predefined profile. This feature is especially useful for fleets with significant numbers of owner/operators. Carriers can more easily match drivers with the loads they want to haul and let them choose the load that best fits what's important to them.
Carrier Portal
The PowerBroker Carrier Portal is designed for the broker's carriers to access the loads that have been offered and current load information, with flexible search options. Carriers have secure access to their available and delivered loads to provide tracking, trip documents, and callin information.
Brokers can get paid faster by providing carriers and owner operators with secure access to input the things needed to complete billing. Visual indicators throughout the screens help carriers and owner operators easily add shipping related documents by uploading the images directly to their loads, where they will automatically be indexed to support billing. The portal provides drag and drop capability for images which simplifies the carrier's work to complete the process.
Factoring Portal
McLeod's Factoring Company Portal provides a new, contemporary tool for brokers and carriers who work with factoring companies which allows them to quickly find the status of movements and reduce the calls necessary. Factoring companies have a clear and concise view in a payment pipeline for all the carriers or brokers. Factoring clerks get easy access to view the status of movements that have been paid or pending, in-progress or delivered, and pay information, such as line haul and other pay records, including advances to better understand the overall net pay for each movement. This portal provides the ability to add images for documentation, speeding up the settlement process.
Location Portal
McLeod's new Location Portal provides a tool for carriers and brokers to give the staff of shippers at a specific location a physical shipping site, warehouse, or terminal, with visibility to loads coming in to and going out of their location.
Market Insight 2.0 – MPact
MPact is the next generation view of the valuable data in McLeod's Market Insight. This private, decision-making domain and marketplace is available only to McLeod Software customers using LoadMaster and/or PowerBroker. It collects data from participating McLeod customers every day to deliver the best pricing, market, and lane insights available in our industry. The new MPact analysis goes beyond showing McLeod customers a series of trends, it highlights key decision indices with actionable insights and trending tools designed to help users make pricing decisions that produce profitable opportunities.
McLeod MPact serves up a series of understandable analysis screens that provide order and pricing trends, distilled from the automated daily Market Insight collaboration between participating McLeod customers. Hosted in a secure cloud, the McLeod Data Science team provides these analytics in real-time while maintaining a high level of security, so McLeod customers can quickly visualize and understand the trends that will influence important freight pricing decisions.
New and Enhanced Integrations
McLeod's Symphony Mobile Communications module offers the broadest integration available with the best communications/telematics vendors in the trucking industry.

The use of slip-seat operations has grown with carriers. Keeping track of which tractors are being used by which drivers can be time consuming for operations and payroll. Working with mobile communication vendors, McLeod Software has improved vehicle selection activity.
McLeod's current integration to Teletrac Navman's Director platform has been enhanced to include Hours of Service (HOS) integration to provide LoadMaster users visibility to their driver's current duty status, available hours and logged hours for the current day and cycle.
McLeod's current integration with EROAD has been enhanced beyond the current integration that provides existing driver hours of service and vehicle position reporting, to now offer outbound workflow with optional geofence arrival and departure reporting, driver-generated real-time reporting of stop-specific tasks, and outbound text messaging from the back-office LoadMaster users to their drivers.
McLeod's LoadMaster integration solution with Transflo has added trailer positions for accurate and timely access to those trailer positions within LoadMaster.
McLeod's integration solution with Zonar mobile communications has been enhanced to automatically capture fuel levels from the engine interface and record these within LoadMaster to update fuel optimization solutions.
LoadMaster has an updated integration solution the inGauge online benchmarking platform which allows carriers to automate exporting periods of financial data to participate in the Truckload Carrier's Association (TCA) Profitability Program (TPP). The data export allows anonymous, easy participation in the program by capturing the needed unique general ledger account activity in a scheduled process to be used for TCA benchmarking reports.
McLeod has released an updated integration solution for PowerBroker that allows our customers to easily participate in the Transportation Intermediaries Association's (TIA) 3PL Market Report. This interface comes completely configured for PowerBroker customers to contribute their data to receive a copy of the quarterly report that gives your company a real peer-to-peer comparison.
McLeod PowerBroker now has a brokerage tracking integration with Transflo Velocity+. PowerBroker users can request load tracking from carriers who use Transflo's driver mobile phone app. The interface will send detailed load information to the app for the carrier to then assign out to their selected driver. GPS and stop arrival and departure event data is returned to PowerBroker and used to create callin records for tracking purposes.
Digital Freight Matching with PowerBroker
McLeod PowerBroker now offers an open API based Digital Freight Matching service to retrieve qualified carriers and loads, book carriers on loads and make counteroffers through integrated third-party capacity solutions. This type of integration will add available tractor capacity so that it is visible directly in PowerBroker. Because this new open published API can be used with a variety of service providers, McLeod is making it possible for customers to take advantage of new solutions that come to market faster than ever. The suppliers who want to offer capacity solutions to McLeod customers can build their own interface quickly, and relatively independently, without waiting on a collaborative design and development process with McLeod.
Routing Guides
With Version 20.2, an important enhancement to PowerBroker's Waterfall Tendering is the addition of Routing Guides. This feature allows a broker to create and store a list of their preferred carriers based on experience. Preferred carriers are the known carriers they prefer to use on specific lanes, in particular regions, or for specific types of freight.
About McLeod Software
The companies who run McLeod Software are the transportation industry's innovators. They consistently improve their customer service and operating ratios, attract and retain the best drivers, and automate their crucial business processes. Visit us at http://www.McLeodSoftware.com.