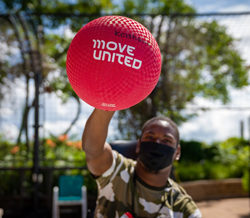 Approximately 61 million Americans have a disability and often face greater obstacles to healthy living, including access to equipment, Move United Executive Director Glenn Merry
ROCKVILLE, Md. (PRWEB) December 14, 2020
When the Coronavirus pandemic hit the nation back in March 2020, many gyms, sports facilities, and adaptive sports programs across the country had to shutter operations. To fill the gap, Move United launched the #AdaptAtHome Fitness Kit so individuals with physical disabilities can stay active and healthy while safe at home. For thousands of individuals with physical disabilities, these local programs serve as a primary means for them to maintain their physical and mental health.
The #AdaptAtHome Athlete Fitness Kits include simple to use items such as an exercise band, cordless jump rope, ball, towel slider, a buff face mask, and a Move United t-shirt. Each kit has an estimated value of $100, which was underwritten in part by The Hartford.
By the end of December, over 1,500 fitness kits will enrich the lives of individuals with physical disabilities who need equipment in order to exercise at home. Move United's digital resource library features various recorded fitness sessions, including equipment demonstrations, exercises and workouts that showcase how each item in the fitness kit can be utilized.
"Approximately 61 million Americans have a disability and often face greater obstacles to healthy living, including access to equipment," said Move United Executive Director Glenn Merry. "With the support of The Hartford, we are able to ensure individuals with physical disabilities have access to fitness equipment during this pandemic so they can stay active and healthy at home."
The Hartford has been an advocate for the adaptive sports movement and sponsor of athletes with disabilities for more than 25 years. As a leading provider of disability insurance, the company has a long-held belief that sports are an important part of physical rehabilitation following a disabling illness or injury. In 2019, the company created its Ability Equipped® program to make adaptive sports and equipment more accessible to youth and adults with disabilities.
Move United is the national leader in community adaptive sports with 200 member organizations in 43 states. Each year, the national nonprofit provides 100,000 youth and adults with disabilities the opportunity to experience the life-changing power of sport.
To request a free Adapt At Home fitness kit, or for more information on #AdaptAtHome resources, visit moveunitesport.org/adaptathome.