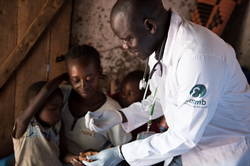 In Zambia and other low-resource areas, supplies are desperately needed. Through in-country partners and our Medical Donations Program, CMMB is working to protect the safety of healthcare workers and stock facilities with lifesaving supplies and equipment essential to treat patients with COVID-19.
NEW YORK (PRWEB) March 27, 2020
"The people there don't realize what's coming. I feel it's a bit like the frog in the pot of slowly boiling water, completely carefree until it's too late," says Cassie Richens, a volunteer nurse with CMMB who recently returned from Mwandi, Zambia.
"I had enough cell service that I could constantly scroll the news. Every day, I watched as the COVID-19 pandemic spread across the world. However, the main thing I watched is how COVID-19 is creeping into Africa. When coronavirus does reach sub-Saharan Africa, where there are the world's most fragile health systems, it could be completely devastating."
Communities around Mwandi, like so many others, are extremely vulnerable. HIV is prevalent, malnutrition is a major concern. There are weakened immune systems everywhere. In Mwandi, there is only one small hospital, without an x-ray machine, and no ventilators. In the outer districts, further from the communities, are small clinics, within even less supplies.
"Right now, we are urgently looking to expand our partnerships to accelerate these lifesaving efforts, as they are needed now more than ever with the threat of COVID-19," states Bruce Wilkinson, CEO of CMMB.
To educate the public on COVID-19 prevention and treatment, CMMB's technical team is rapidly implementing new COVID-19 training for in-country healthcare workers. This training will ensure that all have a firm understanding of COVID-19 signs and symptoms as well as best practices and protocols for prevention, control, and mitigation.
In these low-resource settings, critical, lifesaving supplies, and equipment are lacking. Through in-country partners and a robust Medical Donations Program, CMMB is quickly working to stock health facilities with personal protection items and lifesaving supplies and equipment essential to treat patients with serious cases of COVID-19.
CMMB is working with their current partners and is reaching out to others to help provide essential medical supplies to healthcare workers and health facilities. Personal protective equipment, including face masks, gloves, gowns, face shield, goggles are a priority. Medical equipment, including ventilators and other respiratory support, generators and antiviral and antibiotic medications are critical.
If you would like to help, email cmmb at info@cmmb.org or visit their website at cmmb.org.
"We are doing everything in our power to sound the alarm of the storm that is looming," says Wilkinson. "We are one human family, all brothers and sisters and if we don't act now, if we don't come together, there is no telling the toll this will take on these innocent lives."