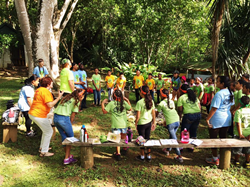 Cooperation is written into our DNA
SAN IGNACIO, Belize (PRWEB) May 07, 2020
Belize, like most developing countries dependent upon tourism, continues to be severely impacted by the global travel shutdown. However , The Lodge at Chaa Creek sees a silver lining in the number of Belizeans stepping up to help each other get through difficult times.
"There's no doubt that these are challenging times, but seeing how people are sharing the burden and helping each other out really lifts our spirits," Chaa Creek's Managing Director Bryony Fleming Bradley said.
"Just seeing so many people who are struggling themselves right now, but still reaching out and sharing what they have, and with a smile, is incredibly uplifting." she added.
Ms Bradley said there are many examples of large and small Belizean businesses, and individuals from all walks of life pitching in to help each other.
A small company in Corozal near Belize's northern border, the country's beer brewer and soft drink distributor, and a jewellery designer near the western border, are just a few of these examples, she said.
Crispy Bites, a small Corozal company specialising in tortillas and corn chips, established an outdoor "free little pantry," posting that:
"If you genuinely need something to eat, or an ingredient to help you cook…feel free to stop by and grab something… If you have some extra pantry products, feel free to leave a little blessing for those that need as well. If you have homegrown produce you would like to bring to put in the pantry and take something you might need, it will be greatly appreciated too."
The "Free Little pantry" took off, and in the first days gave out 75 one-pound bags of flour, rice and beans, as well as bags of eggs, tortilla chips, onions and other provisions.
Bowen and Bowen, Belize's brewer of Belikin beer and stout, is donating hospital beds and a range of medical equipment that includes ventilators, PPEs, masks, and chemical reagents for COVID testing worth some half-million Belize dollars (one quarter million USD).
A San Ignacio based artist, jeweller and small shop owner, Khadija Assales, began putting together packages to assist families in the Cayo District. She was soon assisted by the Cayo Tour Guides Association and the Belize Tourism Board in distributing packages of food, household and hygienic goods to families in need.
Other donors ranging from the Belize Hotel Association, poultry farms, sugar cane growers and numerous individuals have also stepped up.
These, Ms Bradley said, are just a few of many examples.
"Chaa Creek staff members, like many Belizeans, are using what would otherwise be called 'down time' to volunteer for various projects and responses, including joining a volunteer fire brigade to help fight a spate of recent forest fires," she said.
And this level of cooperation is built into the national consciousness, she added.
"From Belize's early days as a remote British Crown Colony, and then as the only English-speaking nation in Caribbean Central America, Belizeans have always relied on each other to get by.
"You see this in that age-old, uniquely Belizean expression of 'hand wash hand.'
"More recently, after Belize achieved independence in 1981, the same year my parents turned our farm at Chaa Creek into Belize's first eco-resort, all these new mom and pop businesses came together and cooperated to create Belize's tourism industry. For a little country no one heard of, and with no marketing budget, it was quite an achievement.
"That's why I'm optimistic that, as a nation, we'll continue pulling together to get through this pandemic, and come back stronger than ever.
"Cooperation is written into our DNA," Ms Bradley said.
The Lodge at Chaa Creek is a multi-award winning eco resort set within a 400-acre private nature reserve along the banks of the Macal River in Belize. It was recognised by National Geographic with first place honours at the 2017 World Legacy Awards held in Berlin.
ENDS