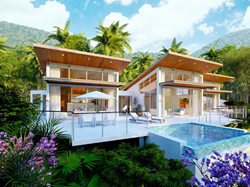 You're getting massive slices of wilderness pretty much to yourself for the moment
TOOWONG, Australia (PRWEB) December 15, 2020
With the world moving closer to a universal Coronavirus vaccination, Belize's The Lodge at Chaa Creek has some thoughts on how mass inoculation will affect travel, and offering tips on how people can travel safely right now.
Lucy Fleming, who with husband Mick founded Chaa Creek in Western Belize in the late 1970s, said the global tourism industry is expecting a surge in travel once the vaccines are approved and distributed. As a past president of the Belize Tourism Industry Association, and advisor to travel professionals, Ms Fleming has been closely involved with the evolution of Belize's travel industry.
"The recent news of a vaccine roll-out in the UK is giving people hope that travel is about to resume, and we're already seeing an increase in website traffic and enquiries. If things continue as they are, I think it's safe to expect a travel boom during 2021.
"In fact, I'm told we're already seeing a steady uptick in enquiries about Belize vacations," Ms Fleming said.
Other travel experts are weighing in with similar reports.
According to an 8 December 2020 Condé Nast Traveller article, "With the ongoing good news about the vaccines, the travel world is experiencing a big surge in search and bookings for 2021," and suggested that travellers, "Start researching and booking your next holiday for when we can travel properly again."
This followed an earlier article posted by Afar that quoted a survey conducted by travel app Hopper indicating that "71 percent of Americans hope to travel in 2021."
And according to some travel experts, such as Travel+Leisure in an earlier article titled "These Travel Insiders Say Now's the Best Time to Go Abroad in Decades — Here's Why," there are advantages to travelling now.
The article quoted several travel professionals, including travel agents recently returning from a trip abroad, who reported that, "You're getting massive slices of wilderness pretty much to yourself for the moment."
Brion Young, Manager of Chaa Creek's Belize Natural History Centre and one of the jungle lodge's health and safety officers, agreed, saying that, "With all the work that has gone into making Belize such a safe travel destination, it makes sense for some people to avoid the post-vaccination surge and take advantage of the benefits of travelling now.
"Chaa Creek's status as a Tourism Gold Standard certified resort means that, from the time we meet our guests at the airport, until we drop them back off, they're enjoying some of the world's highest standards of safe travel and hospitality."
Mr Young stressed that travel remains a personal choice, one best decided upon after considering current information and updates. However, in his opinion, as long as travellers take common sense precautions and follow guidelines, now is a great time to travel to countries like Belize.
"If you visit the Belize Tourism Board's and other websites, you can get a clear picture on how much attention and effort has gone into ensuring the safety of our visitors, hospitality workers and local communities.
"The Tourism Gold Standard program, Safe Travel Corridors, the real-time Belize Health App and other measures put in pace months ago and rigorously tested have made travel safer than ever," he said.
"Add in Belize's close proximity to major North American airports, with Chaa Creek's total care from pickup to drop-off, and there are real reasons to feel confident about having a safe, carefree Belize vacation, with the bonus of less people and a more relaxed experience," Mr Young added.
Ms Fleming agrees, and said she's happy that Chaa Creek's annual Christmas and New Years vacations are able to go ahead this year.
"It's something that we and our guests all look forward to. We're also looking forward to 2021, and welcoming visitors back to the nature-based, casually luxurious vacations that so many people say they appreciate.
"After the challenges of 2020, I'm sure the fresh air, outdoor activities and relaxation our rainforest surroundings offer will be even more welcome than ever.
"And I know that everyone here at Chaa Creek is optimistic about the next year," Ms Fleming said.
The Lodge at Chaa Creek is a multi-award winning eco resort set within a 400-acre private nature reserve along the banks of the Macal River in Belize. It was recognised by National Geographic with first place honours at the 2017 World Legacy Awards held in Berlin.