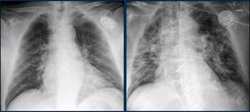 We believe that chest X-ray testing in home or at outpatient imaging centers will be critical in our efforts to prioritize care for patients that are most at-risk, and reduce the strain on New York hospitals
NEW YORK (PRWEB) April 01, 2020
As the number of COVID-19 cases throughout the United States continues to rise, Within Health has pledged to help in the fight against COVID-19 by making radiology imaging more accessible. They have partnered with Zwanger-Pesiri Radiology and mobile X-ray vendors to offer New Yorkers experiencing symptoms the option to get X-rays or CT scans for rapid triage.
"We believe that chest X-ray testing in home or at outpatient imaging centers will be critical in our efforts to prioritize care for patients that are most at-risk, and reduce the strain on New York hospitals," says Kareem Malek, Chief Operating Officer of Within Health.
Over the past few weeks, studies have emerged that demonstrate the effectiveness of chest X-rays and chest CT scans in determining severity of COVID-19 cases, which will better assist healthcare workers with patient triage. X-rays are the quickest way to assess the severity of cases within a matter of minutes, compared to blood tests or swab-testing methods that can take up to a week to reveal results.
Hospitals and ERs across the United States, and in particular New York, are overwhelmed by the increasing number of COVID-19 patients. The surge is largely due to the lack of available testing, expensive and slow testing methods, and ineffective isolation efforts.
Imaging centers, on the other hand, have seen a 70% decrease in patients. Equipped with the latest diagnostic and imaging equipment as well as board-certified radiologists, these facilities have the potential to be at the forefront of helping to manage the nationwide pandemic crisis by identifying patients that are sick and require further medical care.
Within Health's platform enables individuals to connect with a team of primary care doctors to quickly determine if a chest X-ray or CT is needed, and if so, schedule the exam and receive their results—all in a timely and efficient manner. The process consists of three simple steps:
Schedule. The patient picks a time for their free virtual consultation with a physician licensed in the state of New York
Virtual Consultation. The physician calls the patient at their preferred time to assess symptoms and determine whether an X-ray or CT scan is appropriate
Exam. The patient visits one of 34 facilities in New York or Long Island, or requests an in-home visit. Results are received on the same day, and a telehealth physician helps the patient navigate their next steps.
For more information, visit covid.seewithin.co.
About Within Health
Within Helth offers a variety of telehealth services, which include facilitating virtual consultations with physicians who ensure that preventive health screens are appropriate and safe to patients. Our mission is to enable convenient, personal and affordable access to preventive health services while also providing an experience that meets the highest standards of quality and comfort.