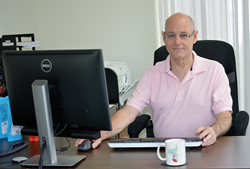 It took a lot of hard work and dedication to get here, but we could not be prouder of our agency, and humbled by the opportunity to serve Foreign Service Officers all these years.
FAIRFAX, Va. (PRWEB) October 20, 2020
WJD Management is proud to announce 36 years supporting Foreign Service Officers (FSOs) and their residential property management needs. WJD's commitment to the Foreign Service Community is exemplified by their nearly 70 percent FSO clientele. WJD is honored to reflect upon their excellent reputation in the Foreign Service Community marked by years of commitment and service in residential property management.
WJD Management is led by Owner and Principal Broker David Norod, who is approaching 40 years' experience in determining rental values, managing properties, and listing area homes for rent.
Based in Old Town Fairfax, Virginia, WJD Management is particularly focused on the needs of FSOs because they recognize that when a FSO homeowner has to relocate overseas, they need to locate a property management firm quickly.
He explains, "By definition, people in the Foreign Service don't live here so if they've made the decision to hire professional property management, they want to hire the best. There really isn't a lot of difference between a Foreign Service homeowner and any other absentee homeowner, but there are definitely some very different considerations in terms of expectations, with communication being paramount. You know, if they're on the other side of the globe they may barely have internet access at times and for that reason need to have access to information about their home 24/7."
Norod maintains a core mission centered on being the only local firm that does not have a real estate sales arm. He notes, "WJD does not sell real estate and that is really the major difference between our firm and others. It is actually a BIG difference! Nearly all property management firms engage in real estate sales and that can create certain conflicts of interest and issues that a potential client may not understand when hiring a property management firm. It is no secret that the other property management firms in our area often invest minimal resources for their property managers because they believe the real money is in selling real estate as opposed to managing it. WJD does not engage in real estate sales, so 100 percent of our company's resources are dedicated to managing the homes in our inventory."
WJD Management's unique departmental structure is designed to respond immediately to FSO needs. Their Leasing Managers thoroughly vet all prospective tenants. Maintenance Managers who work with licensed, bonded and insured contractors have many years of experience, Property Inspectors faithfully take an in-depth look at your home every six months and their MBA Comptroller is also a certified tax consultant. Additionally, WJD utilizes exclusive proprietary software to manage their inventory of homes. Their homeowner and tenant web portals contain a wealth of information such as account statements, leases, invoices, inspections, year-end statements and much more.
Norod recalls, "It took a lot of hard work and dedication to get here, but we could not be prouder of our agency, and humbled by the opportunity to serve Foreign Service Officers all these years."
David Norod is an industry-leading expert committed to professional market contributions. He is proud of his integral role in chartering the local NARPM chapter in Northern Virginia and works hard to stay active in the Property Management industry and local Northern Virginia community. As an industry leader in residential property management, David has been featured in several noteworthy publications over the years to include Inman News, The Huffington Post, and more. If you would like to learn more about WJD Management, visit them at http://www.wjdpm.com or call 703-385-3600.