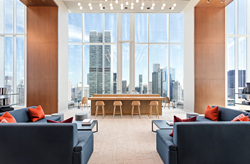 "Wolf Point East is one of the more unique apartment towers we have delivered across our global portfolio," said Will Renner, Managing Director at Hines. "We are energized by the response so far and look forward to welcoming more residents into newly released units in the building."
CHICAGO (PRWEB) May 07, 2020
Wolf Point East introduces the Lake Collection and the Penthouse Collection. The upper-tier floors have upgraded finishes, unparalleled views and consist of expansive floor plans ranging from Jr. one-bedroom units through three-bedroom rental residences. Wolf Point East also debuts photography of its newly completed amenity spaces as the leasing team is conducting virtual tours during the current Stay at Home executive order.
Units located on Floors 41 through 55 are part of the Lake Collection. The Jr. one-bedroom units start at $2,695, one-bedroom units start at $3,125, one-bedroom plus den units start at $4,295 and two-bedroom units start at $5,605 per month. Select units have already been reserved and residents will begin moving into these units in mid-May.
Units located on Floors 56 through 58 comprise the Penthouse Collection. There are only six units per floor that are a unique blend of larger layouts averaging 1,700 square feet. Residents will begin moving into these units in July which offer a differentiated design aesthetic, a long list of unique features and unparalleled views.
"Wolf Point East is one of the more unique apartment towers we have delivered across our global portfolio," said Will Renner, Managing Director at Hines. "We are energized by the response so far and look forward to welcoming more residents into newly released units in the building."
Pre-leasing began in November 2019 and first move-ins occured in January 2020. The 698-unit luxury apartment building offers studio to three-bedroom penthouse floor plans. Studios start at $2,095 per month, junior one bedrooms start at $2,375, one bedrooms start at $2,595 per month and two bedrooms start at $3,995 per month.
Wolf Point East also announces the completion of the building amenity program comprising over three floors. The inviting amenities include a full-floor fitness center complete with best-in-class Technogym cardio equipment, comprehensive weight training and Aktiv Gym Rax smart rigging, a rare feature in residential buildings. The third floor features The Sports Club complete with social games, a golf lounge equipped with a top of the line Full Swing simulator, and an indoor pool with NanaWall system that fully opens onto a furnished sundeck overlooking the Chicago River. Additional extraordinary amenities can be found on the 40th floor including a co-working space that offers private work rooms and a large conference room, an outdoor dog run and elegant gathering spaces for dining and entertaining. One of the highlights of the amenity spaces is the Mirror Lounge, a unique gathering space with unparalleled views of the Chicago southern skyline, outdoor grills and a private entertaining kitchen. The amenity interiors and model units have been curated by Soucie Horner Ltd.
"Our design for the interior and amenity spaces was all about creating a sense of urban serenity that not only complements the building's exterior, but also celebrates its unique riverfront location and historic importance to the city of Chicago," said Shea Soucie, co-founder and Principal of Soucie Horner, Ltd. "That meant modern, elegant, comfortable style inspired as much by what makes the building so special, as by the lessons we've learned over twenty years designing for the luxury residential market. Applying that inspiration, and that expertise - in collaboration with ownership and the architecture team - made it all sing."
Luxury Living Chicago Realty is exclusively marketing and leasing Wolf Point East and is offering a personalized remote leasing experience for interested potential renters.
"Wolf Point East offers a unique matrix of iconic architecture, unparalleled city views, location and luxury finishes designed for today's modern renter," said Aaron Galvin, CEO & Founder of Luxury Living Chicago Realty. "Wolf Point East raises the bar for urban apartment living in Chicago while exuding warmth and elegance in the thoughtfully designed floor plans and community-enhancing amenities."
In today's leasing environment, renters are adapting to remote leasing.
"Our goal is to provide the same best-in-class leasing experience whether in-person or over a virtual tour," said Galvin. "We've worked to gather various digital assets from floorplans to photos to recorded walkthroughs of vacant units and amenity spaces and compiled them into a custom branded leasing experience. We also customize each remote showing based on the unit mix and preferences the client indicated when scheduling their tour. We provide so much up-front information that any eventual on-site tour feels like a second visit to the property."
Located at the intersection of River North, Fulton Market and the Loop above a four-acre riverfront park, Wolf Point East is designed by internationally renowned Pelli Clarke Pelli Architects in partnership with Pappageorge Haymes Partners.
The development team is composed of Hines, Wolf Point Owners LLC and the AFL-CIO Building Investment Trust. Wolf Point Owners LLC is a part of Park Holdings Group LLC which is the principal investment entity of the Kennedy Family.
Learn more about the apartments and future updates at http://www.WolfPointEast.com.
-END-
About Hines:
Hines is a privately owned global real estate investment firm founded in 1957 with a presence in 214 cities in 24 countries. Hines has approximately $120.6 billion of assets under management, including $66.5 billion for which Hines provides fiduciary investment management services, and $54.1 billion for which Hines provides third-party property-level services. With extensive experience in investments across the risk spectrum and all property types, and a pioneering commitment to sustainability, Hines is one of the largest and most-respected real estate organizations in the world.
About Luxury Living Chicago Realty:
Founded in 2007, Luxury Living Chicago Realty has unparalleled experience marketing and leasing luxury multifamily properties in Chicago. Our team provides best-in-class customer service with a seamless showing and leasing process. With our extensive knowledge of the Chicago real estate market, our leasing professionals provide invaluable insight. We are able to understand the renter's needs and priorities and are happy and fulfilled in helping to find the perfect new home. Our passion is to empower people to live their best life. To learn more about Luxury Living Chicago Realty, visit http://www.luxurylivingchicago.com.
About Soucie Horner Ltd:
SH Studio leverages two decades' worth of luxury residential design experience to create exceptionally appointed environments in which to live, work, shop, and relax – from luxury high rise condominiums and planned residential communities to office spaces and retail sites. It is Soucie Horner's belief that good design can actually define lifestyle, which is why they consider every imaginable detail to create uniquely personal homes that are comfortable, livable, and timeless.
About Wolf Point Owners LLC:
Wolf Point Owners LLC is a part of Park Holdings Group LLC which is the principal investment entity of the Kennedy Family. Wolf Point Owners has maintained an ownership stake in the four-acre Wolf Point development site since 1949 when it made an initial land acquisition. Under the leadership of Chris Kennedy and Joseph Hakim, the Family engaged Pelli Clarke Pelli Architects to master plan the site and shortly thereafter entered into a joint venture agreement with Hines in 2008 to develop Wolf Point.
About AFL-CIO Building Investment Trust:
The AFL-CIO Building Investment Trust ("BIT") is a bank collective trust fund whose investors are comprised of qualified pension funds and retirement plans with union beneficiaries. Since 1988, the BIT has invested more than $7.3 billion for the development and acquisition of more than 200 office, retail, multifamily, hotel, warehouse, and mixed-use properties across the country.