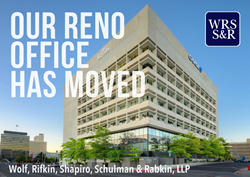 "We are looking forward to meeting clients in our beautiful new downtown space," - John Samberg, Partner in Wolf Rifkin's Reno office
RENO, Nev. (PRWEB) February 23, 2021
Wolf, Rifkin, Shapiro, Schulman & Rabkin, LLP is pleased to announce that its Reno office has relocated. The new office space is centrally located in downtown Reno, one block from the courthouse, to better accommodate the firm's current clients as well as welcome new ones in the years to come.
"We are looking forward to meeting clients in our beautiful new downtown space," said John Samberg, Partner in Wolf Rifkin's Reno office.
The new office is located at the following address: 200 South Virginia Street, Suite 470, Reno, NV 89501. Please update your records. All other contact information will remain the same.
ABOUT WOLF, RIFKIN, SHAPIRO, SCHULMAN & RABKIN, LLP:
Wolf, Rifkin, Shapiro, Schulman & Rabkin, LLP, founded in 1977, has over 45 lawyers in Los Angeles, Las Vegas, and Reno, providing the finest possible legal services while efficiently managing costs through small firm economics and commitment. Clients include individuals and community associations as well as businesses ranging from fledgling firms to Fortune 500 companies.
Practice Areas: Commercial, Real Estate, and Labor Litigation, Business Creditor Litigation, Community Associations, Corporate Law and Business Transactions, including Mergers & Acquisitions, Politics and Government, Administrative Law, Class Actions, Personal Injury & Wrongful Death, Entertainment and Hospitality, Intellectual Property, both Transactional and Litigation, Alternative Dispute Resolution
CONTACT:
John Samberg, Esq
Partner, Reno office
Wolf, Rifkin, Shapiro, Schulman & Rabkin, LLP
jsamberg@wrslawyers.com
775-853-6787
Bradley Schrager, Esq
Managing Partner, Nevada offices
Wolf, Rifkin, Shapiro, Schulman & Rabkin, LLP
bschrager@wrslawyers.com
702-341-5200