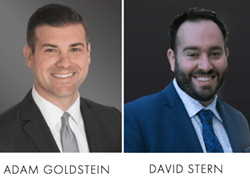 "I am excited to be a member of an entrepreneurial team where developing my practice, and helping clients achieve their desired results efficiently and effectively, are top priorities." - Adam Goldstein
LOS ANGELES (PRWEB) November 11, 2020
Wolf, Rifkin, Shapiro, Schulman & Rabkin, LLP is pleased to announce that Adam Goldstein and David Stern have joined the firm. Mr. Goldstein will be a senior associate in the Real Estate and Community Associations practice groups in the Los Angeles office. Mr. Stern will be an associate in the Community Associations practice group in the Las Vegas office.
Mr. Goldstein's practice focuses on real estate and finance matters. He works with lenders, developers, investors, hotel owners, and real estate companies, helping them with a variety of transactions, including purchase and sale agreements, financings, and management agreements. Mr. Goldstein earned his Bachelor of Arts in Political Theory from the University of California, San Diego and he earned his Juris Doctor from the University of San Diego School of Law.
"After meeting the attorneys at Wolf, Rifkin, Shapiro, Schulman & Rabkin, LLP, I was instantly drawn to the firm," said Mr. Goldstein. "Their team spirit and collegiality are apparent and strong, and I knew that I wanted to be part of the culture. I am excited to be a member of an entrepreneurial team where developing my practice, and helping clients achieve their desired results efficiently and effectively are top priorities."
Mr. Stern's practice focuses on legal matters involving community associations. He earned his Bachelor's Degree in Philosophy and East Asian Studies at McGill University and a Certificate in International Trade from Concordia University in Montreal, Canada, and he earned his Juris Doctorate, from the William S. Boyd School of Law in Las Vegas, Nevada, graduating with highest pro bono honors. Prior to becoming an attorney, Mr. Stern spent over a decade immersed in international business.
"A wise man once told me that it is better to be lucky than good. Actually, he said it more than once, pretty much every time I scored a goal while playing hockey," said Mr. Stern. "I knew as soon as I met Michael Schulman and Greg Kerr, that I would be lucky to work with them. Every day at Wolf, Rifkin, Shapiro, Schulman, and Rabkin LLP, I am reminded that I am surrounded by brilliant and experienced people who I can learn from and who are happy to teach me. Every day I am given an opportunity to use my strengths to help a client or coworker. Every day I realize how good it is to be lucky; and I am grateful."
About WOLF, RIFKIN, SHAPIRO, SCHULMAN & RABKIN, LLP
Wolf, Rifkin, Shapiro, Schulman & Rabkin, LLP, founded in 1977, has over 45 lawyers in Los Angeles, Las Vegas, and Reno, providing the finest possible legal services while efficiently managing costs through small firm economics and commitment. Clients include individuals and community associations as well as businesses ranging from fledgling firms to Fortune 500 companies. For more information, visit: WRSLawyers.com.
Linkedin: https://www.linkedin.com/company/wolf-rifkin-shapiro-&-schulman-llp/
Facebook: https://www.facebook.com/wrslawyers
Los Angeles Office
11400 West Olympic Boulevard, Ninth Floor
Los Angeles, California 90064-1582
310-478-4100
Las Vegas Office
3556 East Russell Road, Second Floor
Las Vegas, Nevada 89120
702-341-5200
5594 Longley Lane, Unit B
Reno, Nevada 89511
775-853-6787