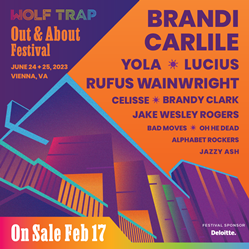 "The Out & About Festival captures the spirit of Wolf Trap—we are a community where music and nature are for all to enjoy," said Arvind Manocha, president and CEO of Wolf Trap Foundation.
VIENNA, Va. (PRWEB) February 01, 2023
Wolf Trap Foundation for the Performing Arts announces the Out & About Festival, a celebration of music, nature and pride headlined by multi-Grammy Award winner Brandi Carlile. This family-friendly festival spotlights superstar LGBTQ+ artists and allies, and spans three stages and two days, June 24 and 25, 2023, at America's only National Park for the Performing Arts.
"The Out & About Festival captures the spirit of Wolf Trap—we are a community where music and nature are for all to enjoy," said Arvind Manocha, president and CEO of Wolf Trap Foundation. "Brandi is an inspiration to artists and audiences, both for her unmistakable sound and for standing proudly as an icon of the gay community. We are really grateful for the chance to collaborate with Brandi and all of the guest artists to realize a shared vision."
Folk-rock superstar Brandi Carlile is known for her distinctive voice and high-energy performances, as well as for her philanthropic work, which brings people together in support of humanitarian and social causes. She first performed at Wolf Trap in 2008, as an opening act for the Indigo Girls, and has since returned to headline on five occasions, including her most recent visit to the Filene Center in 2021 and her intimate acoustic shows on her Pin Drop Tour at The Barns at Wolf Trap in 2014.
In addition to Carlile, who closes both nights, the festival bill includes Queen of Country Soul, Yola; electric indie pop band Lucius; folk pop singer/songwriter Rufus Wainwright; soulful singer and spoken word artist Celisse. For the first time in decades, all three of Wolf Trap's stages—the Filene Center, the Meadow Stage, and Children's Theatre-in-the-Woods—will be programmed throughout the day. Artists on the Meadow Stage include glam pop artist Jake Wesley Rogers; raw country artist and emotional lyricist Brandy Clark; and two local D.C. artists—vintage power punk band Bad Moves and indie soul band Oh He Dead. For younger fans, the festival will feature Alphabet Rockers, a hip-hop children's music collective, and the first New Orleans jazz band for kids, Jazzy Ash & The Leaping Lizards with special guest Pam Rocker on the Children's Theatre-in-the-Woods stage. In all, 11 artists perform across three stages during the two-day festival.
Produced and programmed by the nonprofit Wolf Trap Foundation, the festival highlight LGBTQ+ artists, brings fans together during Pride month, and activates the Park in new and holistic ways.
Each day opens with family-friendly shows for all ages at Children's Theatre-in-the-Woods, a rustic amphitheater nestled in a shaded grove. Afternoons will feature acts performing up-close-and-personal sets on the charming open-air Meadow Stage. Each day closes at the Filene Center, Wolf Trap's majestic outdoor amphitheater, which boasts state-of-the-art sound systems, newly upgraded and accessible seating, and general-admission lawn seats.
Throughout each day, guests will experience an unparalleled natural setting and new performance configurations, as well as free parking, an array of food options, amenities, and more. The campus also features new large outdoor pavilions and picnic area overlooking the meadow. On-site happenings, including festival partnerships and activities in celebration of Pride, will be announced.
"If you've only been to the Filene Center, there's so much more to discover at America's only national park for the performing arts, from open meadows to wooded trails, hidden creeks and gardens. We are really looking forward to showing off the Park when it's fully activated across two days, three stages, and all 117 acres of wooded rolling hills," remarked Manocha.
To be kept up to date on the latest Out & About Festival updates, please visit: wolftrap.org/outandabout and follow us on Facebook, Instagram, and Twitter.
WHEN and WHERE:
Wolf Trap National Park for the Performing Arts
1551 Trap Road, Vienna, VA
Saturday, June 24
Brandi Carlile
Yola
Rufus Wainwright
Jake Wesley Rogers
Bad Moves
Alphabet Rockers
Sunday, June 25
Brandi Carlile
Lucius
Celisse
Brandy Clark
Oh He Dead
Jazzy Ash & The Leaping Lizards
Festival gates will open at 3 PM, and performances will take place on the Meadow Stage from 4 to 6 PM.
Filene Center performances begin at 6:30 PM. A detailed schedule will be released at a later date.
Festival tickets range from $75 to $345 and provide access to the Meadow Stage and Filene Center performances. Tickets for Children's Theatre-in-the-Woods are $12 and sold separately. VIP tickets are $498 and include prime orchestra seats and numerous amenities.
Tickets for Out & About Festival will go on sale to the public on February 17 at 10 AM. Tickets will be available at WolfTrap.org and at the Filene Center Box Office.
Wolf Trap members have access to exclusive presales and may purchase tickets in advance of the general public. Memberships with presale access start at $80 and are tax-deductible less the value of goods and services provided. For more information, visit wolftrap.org/membership.
Out & About Festival is made possible by generous support from the following
Wolf Trap Foundation Official Sponsors and Partners:
Deloitte, Festival Sponsor
Dan and Gayle D'Aniello, Wolf Trap 2023 Season Underwriters
The PNC Foundation, Premier Sponsor, 2023 Summer Season
The Boeing Company, Major Sponsor, Boeing Salutes Series
American Airlines, Official Airline
Steinway, Official Pianos
###
About Wolf Trap
Wolf Trap Foundation for the Performing Arts, a 501(c)(3) nonprofit, produces and presents a full range of performance and education programs in the Greater Washington area, as well as nationally. Wolf Trap features three performance venues: the outdoor Filene Center and Children's Theatre-in-the-Woods, both located at Wolf Trap National Park for the Performing Arts, and The Barns at Wolf Trap, located down the road from the national park and adjacent to the Center for Education at Wolf Trap. The 7,028-seat Filene Center is operated in partnership with the National Park Service and annually showcases an extensive array of diverse artists, ranging from pop, country, folk, and blues to classical music, dance, and theatre, as well as multimedia presentations, from May through September. The Barns at Wolf Trap is operated by Wolf Trap Foundation year-round, and during the summer months is home to the Grammy-nominated Wolf Trap Opera, one of America's outstanding professional training programs for early career opera singers. Wolf Trap's education programs include the nationally acclaimed Wolf Trap Institute for Early Learning Through the Arts, Children's Theatre-in-the-Woods, a diverse array of arts education classes, grants, and a nationally recognized internship program.
Media Information
High-resolution images are available upon request.