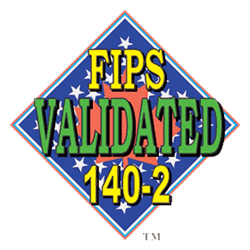 EDMONDS, Wash. (PRWEB) March 05, 2019
wolfSSL, the leading provider of TLS cryptography and the world's first commercial release of TLS 1.3, announces the wolfSSL FIPS-Ready solution! Federal Information Processing Standards (FIPS) 140-2 is a mandatory standard for the protection of sensitive or valuable data within Federal systems. Federal agencies purchasing cryptographic-based security systems must confirm an associated FIPS 140-2 certificate exists.
"This is a game changer", says wolfSSL CEO and co-founder, Larry Stefonic. "We are excited to make our FIPS-Ready library available to everyone in open source form. Without FIPS, a federal agency is not able to use cryptographic-based software, by utilizing FIPS-Ready, customers can be prepared for the FIPS procurement requirement saving valuable time in the procurement process."
By utilizing FIPS ready code customers can release to market without having to go through the arduous FIPS certification process until an end customer calls for certification. The wolfSSL FIPS-Ready solution will be GPLv3 licensed with commercial license options available. With the wolfSSL FIPS-Ready library, you can acquire a copy of the commercially licensed version of FIPS-Ready to begin selling to non-FIPS customers today. If at some point in the future a demand for FIPS presents itself we simply validate your FIPS-Ready product for direct or indirect sale into FIPS projects! Included in the FIPS-Ready code is FIPS-required default entry point and power self test as well as the wolfSSL FIPS compliant cryptographic library. What is not included is the validated operating environment or CAVP certificates for algorithms, both will only be added if/when FIPS is needed. The benefits to using the FIPS-Ready wolfCrypt sources is that they adhere to the most stringent of Government requirements for a cryptographic library.
wolfSSL CTO and co-founder Todd Ouska stated, "Providing the FIPS 140-2 validated version of wolfCrypt means that wolfSSL not only has support for the most current version of TLS, but it also has the encryption backbone to support your FIPS 140-2 needs."
wolfSSL is a lightweight TLS/SSL library that is targeted for embedded devices and systems. It has support for the TLS 1.3 protocol, which is a secure protocol for transporting data between devices and across the Internet. In addition, wolfSSL uses the wolfCrypt encryption library to handle its data encryption.
wolfSSL's software is available under two distinct licensing models: open source and standard commercial licensing. Businesses and enterprises who wish to incorporate wolfSSL products into proprietary appliances or other commercial software products for redistribution must license commercial versions. wolfSSL is the first to offer a commercial release of TLS 1.3.
For more information on FIPS-Ready visit: https://www.wolfssl.com/license/fips/
The FIPS enabled GPLv3 version will be available for download from our website in March.
Download wolfSSL under the GPLv2 license at:
https://github.com/wolfssl - or -
http://www.wolfssl.com/wolfSSL/download/downloadForm.php
For licensing questions, contact licensing(at)wolfssl.com
About wolfSSL
wolfSSL focuses on providing lightweight and embedded security solutions with an emphasis on speed, size, portability, features, and standards compliance. Dual licensed to cater to a diversity of users ranging from hobbyists to the user with commercial needs, we are happy to help our customers and community in any way we can. Our products are open source, giving customers the freedom to look under the hood. Our wolfSSL embedded TLS library is the first commercial release of TLS 1.3 in the world.