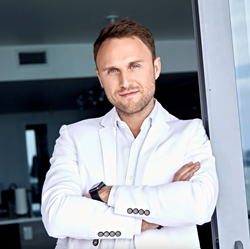 I'm thrilled to take Wolsen Realty's influence over the top with Side
MIAMI (PRWEB) November 29, 2022
Wolsen Real Estate today announced Wolsen Realty and its partnership with Side, the only real estate technology company that exclusively partners with high-performing agents, teams, and independent brokerages to transform them into market-leading boutique brands and businesses. The alliance will ensure that Wolsen Realty's professional, upscale services are powered by the industry's most advanced platform.
Since 2012, Wolsen Realty founder Denis Smykalov has provided exceptional real estate services as an agent and, since 2014, as a licensed broker. He harbors a deep knowledge of the local luxury market, which he integrates with his work to produce profitable results. With an innate ability to form long-lasting connections and a tenacious motivation to reach his clients' goals, Smykalov has cemented his respected reputation among the top agents in Miami's most competitive markets. With the help of his team, Smykalov has achieved more than $300 million throughout his career, $100 million of which was sold in 2021 alone. Of those totals, $20 million was managed exclusively using cryptocurrency.
Wolsen Realty serves buyers, sellers, and investors with unparalleled concierge-style assistance in Miami's most upscale markets. It hosts dozens of professionals who provide a full suite of services in their respective fields, including dedicated marketing, social media, and administrative teams. With over 100 years of combined experience actualizing customer aspirations, Wolsen Realty agents continue to set industry standards, paving the way via state-of-the-art marketing strategies and an ever-growing network.
Partnering with Side will ensure Wolsen Realty remains on the cutting edge of the evolving real estate market while continuing to deliver premium services to its clients. Side works behind the scenes, supporting Wolsen Realty with a one-of-a-kind brokerage platform that includes proprietary technology, transaction management, branding and marketing services, public relations, legal support, lead generation, vendor management, infrastructure solutions, and more. Additionally, Wolsen Realty will join an exclusive group of Side partners, tapping into an expansive network from coast to coast.
"I'm thrilled to take Wolsen Realty's influence over the top with Side," Smykalov said. "With additional marketing, technology, administrative, and legal support to streamline our processes, we can strengthen our focus on building and maintaining client relationships to ultimately yield outstanding results."
About Wolsen Realty
Wolsen Realty fronts exclusive, concierge-style assistance for buyers, sellers, and investors in the upscale Miami market. With tireless persistence, unwavering professionalism, and an unparalleled work ethic, the Wolsen Realty team consistently produces lucrative results. Combining innovative industry strategies with transparent services, Wolsen Realty agents flawlessly secure luxury-level transactions so that its clients can live lavishly. For more information, visit http://www.wolsenrealty.com.
About Side
Side is a behind-the-scenes brokerage platform that exclusively partners with top-performing agents, teams, and independent brokerages to create and grow their own boutique brands without the cost, time, or risk of operating a brokerage. Side's proprietary technology platform and premier support solutions empower its agent partners to be more productive, grow their business, and focus on serving their clients. Side is headquartered in San Francisco. For more information, visit http://www.side.com.