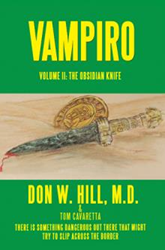 CASA GRANDE, Ariz. (PRWEB) December 18, 2018
After a foolish man commits an egregious violation during a spiritual cleansing ritual known as the Huevo Limpia, the malignant disease of human vampirism is reincarnated in the lower Rio Grande Valley of New Mexico after several years of dormancy. Fearing for the life of a small child, a modern-day folk healer takes the child and flees across the Mexican border in peril in Don W. Hill, MD and Tom Cavaretta's new sci-fi horror novel, "Vampiro – Volume II: The Obsidian Knife" (published by Archway Press). The book is available for purchase at: https://www.amazon.com/Vampiro-Obsidian-Don-M-d-Hill/dp/1480868523/.
Following the events of the first volume of the "Vampiro" series, "The Night Crawler Protocol," the story finds curandera Lorena Pastore and a 5-year-old boy named Nathan on the run toward Mexico. Their journey is intensified as they are hunted by the boy's father, who is becoming a lethal vampire. After making it to Mexico, a darker side of Lorena begins to emerge as she perceives that she is destined to evolve into una gran bruja — a powerful witch — who is the rightful heir to the remnants of the Maya civilization.
"As the human species remains tribal and superstitious by nature, we often collectively shun those who demonstrably manifest different physical characteristics that are not readily recognized amongst ourselves," says co-author Hill. "In this work of fiction, vampirism is presented as an unfortunate disease process, not as an evil per se. Those infected with the disease in the 'Vampiro' series are presented as characters who like all people, demonstrate good and bad behavior, bravery and fear, and also not surprisingly, altruism vs. self-serving endeavors."
"Vampiro"
By Don W. Hill, MD and Tom Cavaretta
Hardcover | 6 x 9 in | 346 pages | ISBN 9781480868519
Softcover | 6 x 9 in | 346 pages | ISBN 9781480868526
E-Book | 346 pages | ISBN 9781480868502
Available at Amazon and Barnes & Noble
About the Author
A native of Houston, Don W. Hill, MD, FACP, graduated from Trinity University in San Antonio in 1978. After completing his medical school training at the University of Texas Medical School at Houston in 1982, Hill did his postgraduate training in internal medicine, hematology, and oncology at the University of New Mexico in Albuquerque in 1987. Hill has completed over 30 years of medical practice that included working in multispecialty clinics, solo practice and everything in between, including academia and clinical research. A fellow of the American College of Physicians, Hill is also the author of "The DNR Trilogy."
A native of New York City, Thomas Cavaretta moved to El Paso, Texas, with his family when he was 2. He graduated with a bachelor's in marketing from the University of Texas in Austin. After completing his undergraduate work, Thomas returned to the Southwest desert and graduated with a Master of Business Administration from the University of Texas at El Paso. Currently married with two sons and now living in Phoenix, this coauthor has worked in the technological field of hematology and oncology biotherapeutics for more than a quarter of a century.
Simon & Schuster, a company with nearly ninety years of publishing experience, has teamed up with Author Solutions, LLC, the leading self-publishing company worldwide, to create Archway Publishing. With unique resources to support books of all kind, Archway Publishing offers a specialized approach to help every author reach his or her desired audience. For more information, visit archwaypublishing.com or call 888-242-5904.