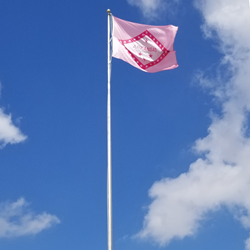 Owner, Kerry McCoy said, "Susan G Komen foundation has done such a great job bringing breast cancer awareness to America. I think the pink state flags may be the most creative way I've seen to show your support and share your pain."
LITTLE ROCK, Ark. (PRWEB) October 05, 2018
Woman-owned company, FlagandBanner.com, will fly a pink version of the Arkansas state flag throughout the month of October in support of finding the cure for breast cancer. The custom made flag was manufactured onsite in 2017. The trend of flying a pink state flag began in 2015, when a FlagandBanner.com customer, Geoffrey Jackson, purchased a pink New Mexico flag in honor of his wife who lost her fight against the disease. His story was reported in FlagandBanner.com's magazine, Brave, last October. After the story ran, pink state flag requests skyrocketed. FlagandBanner.com reports making pink versions of at least eight different state flags.
Owner, Kerry McCoy said, "Susan G Komen foundation has done such a great job bringing breast cancer awareness to America. I think the pink state flags may be the most creative way I've seen to show your support and share your pain." Trend starter, Geoffrey Jackson said, "Pink is widely regarded as the color to represent breast cancer so a pink version of a state flag will show support and increase awareness without promoting any specific organization or cause. A pink flag just indicates a knowledge that this disease will impact many, if not all, families in one way or another and that there is help out there for those that need it."
In business since 1975, FlagandBanner.com carries more than 20,000 products including flags, poles, hardware, accessories, banners, bunting, clothing, home decor and more on their website. Visit their historic showroom located at 800 W. 9th Street in downtown Little Rock, Arkansas. Open Mon-Fri 8-5:30 and Sat. 10-4, closed Sundays. The company also manufactures custom flags, banners and other custom products. Orders for custom made pink state flags can be made through the FlagandBanner.com website as well as through the sales department or retail store front. For more information about FlagandBanner.com visit them online or call 1-800-445-0653 to speak with one of their friendly flag experts.