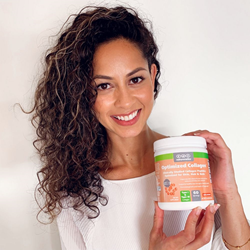 Most of us drink a coffee, tea, juice or smoothie each morning, so it's super easy to incorporate a scoop of collagen to give your skin, hair and nails support from the inside.
LAS VEGAS (PRWEB) June 16, 2020
Highly successful supplements company Naturenetics has recently launched a new and patented collagen peptides powder that is fast becoming the most important part of many women's beauty routines.
Optimized Collagen, which was created by experts to specifically target skin, hair and nails, can be added to coffee and is providing women with a solution to lengthy multi-step skin care routines.
Celebrities, including Jennifer Aniston, Busy Philipps and even the Kardashians have been known to take collagen for its beauty benefits, and for good reason according to Jennifer Chwalek, a board-certified dermatologist at New York City's Union Square Laser Dermatology.
"Collagen is the most abundant protein in the body. It is like a scaffolding in the skin that creates a support network that gives the skin strength and elasticity," explained Dr. Chwalek.
"As there has been more attention paid to the benefits of diet and the role diet plays in health, more women are turning to supplements as a way to complement their skincare routines," she said.
This desire for natural skincare solutions is what first turned Graeme Potter, CEO of Naturenetics, on to collagen.
But it was his firsthand experience watching his wife struggle to keep up with her usual multi-step skincare regime after having their two young boys that prompted him to look for a very specific type of collagen.
"Two conflicting things really stood out to me", said Potter, "I noticed when she felt good about her skin, her confidence levels went up. But with more and more demands from everyday life, she was finding less time available to spend looking after her skin. Especially with kids to get ready in the morning!"
"I wanted to find a collagen powder that was specifically beneficial for skin (and hair and nails), was backed by science (i.e. proven in clinical studies), and which could be easily added to a daily routine, with virtually no extra time or effort."
After several months of searching and contacting different ingredient suppliers, the result was their recently launched product, Optimized Collagen. It contains a patented ingredient which has specific collagen peptides that are recognized by the fibroblast cells in the dermal layer of the skin. All it requires is one small scoop each day into coffee, water, juice or a drink of choice.
Several scientific studies have shown that this particular ingredient influences the skin's collagen metabolism directly from the inside. It increases the skin moisture and delays the formation of wrinkles, and has also been shown to reduce cellulite and support faster growing nails, with reportedly less chipping.
Potter believes Optimized Collagen provides a solution to time consuming and expensive multi-step skincare routines, and is more of an "inside-out approach" to caring for skin.
"Most of us drink a coffee, tea, juice or smoothie each morning, so it's super easy to incorporate a scoop of collagen to give your skin, hair and nails support from the inside," he said.
Judging by the amount of 5 star reviews they are receiving since launching the product, it seems women genuinely can improve their skin, feel better as a result, and slim down their daily skincare routine to save time.