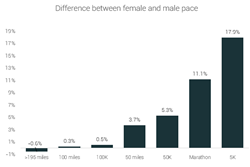 The longer the distance the shorter the gender pace gap. In 5Ks men run 17.9% faster than women, but above 195 miles, women are actually 0.6% faster than men.
FORT COLLINS, Colo. (PRWEB) January 09, 2020
In the largest study ever completed on the sport of ultra running, RunRepeat.com with the help of the International Association of Ultrarunners (IAU) has analyzed 5,010,730 results from 15,451 ultra running events over the last 23 years.
They've discovered among many things, that as distances extend, women quickly close the pace gap between genders and at extreme distances women in fact are faster than their male counterparts.
The findings detailed in The State of Ultra Running 2020, give a unique view into a sport that's been seeing constant growth for the past 20 years.
Unlike the decline in participation seen in shorter distance races (under 26.2), ultra marathons continue to see increased participation year after year, suggesting that as we crest into a new decade runners are seeking out more ambitious endeavors.
Below are some of the key findings of the study:

Female ultra runners are faster than male ultra runners at distances over 195 miles. The longer the distance the shorter the gender pace gap. In 5Ks men run 17.9% faster than women, at marathon distance the difference is just 11.1%, 100-mile races see the difference shrink to just .25%, and above 195 miles, women are actually 0.6% faster than men.
Participation has increased by 1676% in the last 23 years from 34,401 to 611,098 yearly participations and 345% in the last 10 years from 137,234 to 611,098. There have never been more ultra runners.
More ultra runners are competing in multiple events per year. In 1996, only 14% of runners participated in multiple races a year, now 41% of participants run more than one event per year. There is also a significant increase in the % of people who run 2 races a year, 17.2% (from 7.7% to 24.9%) and 3 races, 6.7% (from 2.8% to 9.5%).
There have never been more women in ultrarunning. 23% of participants are female, compared to just 14% 23 years ago.
Ultra runners have never been slower across distance, gender and age group. The average pace in 1996 was 11:35 min/mile, currently, it is 13:16 min/mile. The average runner has added 1:41 min/mile to their average pace, which is a slowdown of 15% since 1996. We don't believe that individual runners have become slower, but that these distances are attracting less prepared runners now because the sport is more mainstream.
The fastest ultra running nations are South Africa (average pace 10:36 min/mile), Sweden (11:56 min/mile), and Germany (12:01 min/mile).
A record amount of people travel abroad for ultra running events. 10.3% of people travel abroad to run an ultra, for 5Ks this percentage is just 0.2%.
Runners in the longer distances have a better pace than the runners in the shorter distances for each age group. All age groups have a similar pace, around 14:40 min/mile. Which is unusual compared to the past and to other distances.
The average age of ultra runners has decreased by 1 year in the last 10 years. It has changed from 43.3 years to 42.3 years.
There are numerous other findings detailed in this extensive look at ultra running, but as thrill seekers continue to push the boundaries of what's possible, this sport is poised to capture the hearts, minds, and dollars of millions.
You can view the full study and it's findings at: https://runrepeat.com/state-of-ultra-running.
For questions about this study, repurposing or covering its content, or RunRepeat as a whole, please reach out to Paul Ronto at paul@runrepeat.com.
About the IAU
The International Association of Ultrarunners (IAU) is operating under the patronage of the IAAF and is dedicated to developing ultra distance running internationally within the IAAF Rules & Regulations. As an international governing body for ultra distance running, the main objectives is to promote and develop long distance running worldwide.
About RunRepeat
RunRepeat helps to ensure that athletes of all sports have the right footwear at the absolute best price. Through aggregating user reviews, conducting extensive expert testing, scoring every model using a sophisticated CoreScore system, and scouring the internet for the best prices available, RunRepeat ensures the shoe buying process is quick and simple.