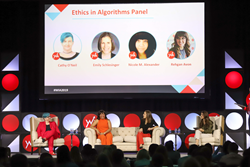 Women in Analytics continues to grow its community, so we expect the 2020 conference to be our biggest yet.
COLUMBUS, Ohio (PRWEB) July 09, 2019
Today, Women in Analytics (WIA), organizer of an analytics conference featuring women speakers, announced that Feryal Ozel, a professor of Astronomy and Astrophysics at the University of Arizona and a member of the team that captured the first image of a black hole, will deliver the opening keynote at its 2020 conference, June 3-5 at the Columbus Convention Center. Conference registration is now open.
WIA is also announcing a partnership with VentureBeat including a featured sponsorship of their AI conference, Transform 2019, July 10-11 in San Francisco. On July 10, it will co-sponsor the Women in AI Breakfast, an event featuring women shaping the future of AI. Rehgan Avon, founder of WIA, and Lauren Burke, director of operations for WIA, join the advisory committee that will select the recipients of the Women in AI Awards, recognizing women who have made outstanding contributions in five areas: Responsibility & Ethics of AI, AI Entrepreneur (2 awards), AI Research, AI Mentorship and Rising Star.
"WIA continues to grow its community, so we expect the 2020 conference to be our biggest yet," said Rehgan Avon, founder, WIA. "We're excited that one of the world's leading scientists, Feryal Ozel, is going to open the event. Her fascinating research on black holes led to the first documented image of one in April 2019, capturing worldwide attention."
Women in Analytics 2020 features 45 presenters and workshop instructors over three days. The conference has grown from its beginnings in 2016 with 1,200 attendees expected at next year's event.
As WIA prepares for 2020, it continues to support charitable causes for women in the analytics space. Its initiatives include:

Founding sponsor for the Translational Data Analytics Institute's free summer camp, Data Science for Women Summer Camp, that introduces 35 young women in grades 8-10 to data science and analytics.
TECH CORPS, a nonprofit for which WIA sponsors and pilots a data science and analytics curriculum for elementary, middle schools, and high schools in Ohio.
Grant money donations to Ph.D. candidates to conduct selected research projects following the 2020 WIA Conference.
For more information on the Women in Analytics 2020 conference or to sign up to receive updates, visit https://www.womeninanalytics.com/.
About the Women in Analytics Conference
The mission of the Women in Analytics Conference, launched in 2016 by founder Rehgan Avon, is to provide visibility to the women making an impact in the analytics space and offer a platform for them to lead conversations around the advancements of analytical research, development, and application. The speaker line-up is the only aspect of the conference dedicated exclusively to women. All other elements, from attendance to competitions and scholarships, are open to everyone regardless of gender identity or expression. For more information, visit the web site, or follow WIA on Facebook, Twitter, Instagram, YouTube and LinkedIn .