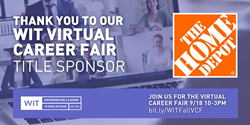 "We are proud to sponsor Women In Technology's Virtual Career Fair, which helps women build broader connections and grow their careers in technology," said Angie Brown, Vice President of Technology for The Home Depot
ATLANTA (PRWEB) September 09, 2021
"We are proud to sponsor Women In Technology's Virtual Career Fair, which helps women build broader connections and grow their careers in technology," said Angie Brown, Vice President of Technology for The Home Depot. "Today, technology plays a leading role in business transformations across industries, and there has never been a more exciting time to pursue or return to a career in technology."
WIT Members will have the opportunity to sign up for one-on-one live video chats with Georgia's top employers, as well as take part in live professional development sessions. Event Sponsors receive a virtual booth and have an opportunity to showcase who their companies are, what services they offer and the job opportunities or internships they have available to thousands of Women in Technology (WIT) Members.
"After the incredible success of our first WIT Virtual Career Fair in the Spring, we decided to bring back another Virtual Career Fair for the fall. Our WIT Community and WIT Sponsors are excited to find even more solid connections, potential employment, and of course networking opportunities." Paula Bolton, Chief Marketing and Program Officer at WIT.
For more information about the Women in Technology (WIT) Fall Virtual Career Fair go to bit.ly/WITCareerFair2021 or contact Paula Bolton at pbolton@mywit.org.
About The Home Depot
The Home Depot is the world's largest home improvement specialty retailer. The Company operates a total of 2,300 Home Depot retail stores in all 50 states, the District of Columbia, Puerto Rico, U.S. Virgin Islands, Guam, 10 Canadian provinces and Mexico. In fiscal 2020, The Home Depot had sales of $132.1 billion and earnings of $12.9 billion. The company employs approximately 500,000 associates. The Home Depot's stock is traded on the New York Stock Exchange (NYSE: HD) and is included in the Dow Jones industrial average and Standard & Poor's 500 index.
About Women In Technology
Women In Technology (WIT) empowers girls and women to excel in Science, Technology, Engineering, The Arts, and Math (STEAM) from the classroom to the boardroom. We do this by providing female students in middle school, high school, and college with education, exposure and experience. By sharing the stories of successful professionals across the STEAM fields, we encourage all generations of girls and women to write their future. Today, WIT has over 18,000 members in Georgia, 48,000 members worldwide and our team of more than 250 volunteers deliver professional development and networking opportunities to each of our professionals and programs at no charge to more than 3,000 students. WIT is a 501(c)(3) non-profit organization, and we are committed to making Georgia the state with the highest percentage of women in the STEAM workforce by partnering with our community to provide opportunities that champion women throughout their education and career.