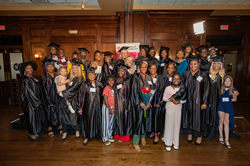 "As a single parent, there are obstacles when it comes to going back to school or learning new skills. WIT got rid of the obstacles. Not only have I gotten quality training from Emory, but I have also learned to better market myself, discovered which path I'd like to take in IT", Constance Miller
ATLANTA (PRWEB) April 22, 2021
On Saturday, 20 single mothers graduated from Women In Technology's 12-week Single Mothers' Program, with each graduate earning a Cyber Security Certificate from Emory University. The graduates of this inaugural class received an average score of 95% on course work and are in the process of job placement.
"I have been involved in adult education and technology training for more than 10 years but have never been quite so blessed by a group of students with as much passion and enthusiasm about their future," said Hamid Armand, Professional Development Manager at Emory University. "These amazing graduates have overcome challenges and championed – opening new pathways to success for themselves and their families."
Participants in WIT's Single Mothers' Program learn cyber and information security fundamentals while also receiving free of charge wrap-around support, including transportation services, childcare and development services, meals during class and laptops for skilling and course work. Upon successful program completion, graduates earn a Cyber Security Certificate from Emory University and are supported by WIT with job search and job placement.
"As a single parent, there are definitely some obstacles when it comes to going back to school or learning new skills. WIT got rid of the obstacles. Not only have I gotten quality training from Emory, but I have also learned to better market myself, discovered which path I'd like to take in IT, I understand what certifications are best for my chosen field, networked, pinpointed my purpose, and I contributed two new and healthy dishes to Thanksgiving based on what I learned. I have made friends and contacts and I am well on my way to becoming the IT professional I aspire to be. The icing on the cake is that my little girls get to see me do it!" said Constance Miller, WIT Single Mothers' Program #1 ranked student.
WIT's Single Mothers' Program offers educational and skills-building opportunities in the budding world of cyber and information security. Applications for the fall semester are now open. To learn more, please follow this link. Classes are scheduled to begin on September 25, 2021.
"We are incredibly proud of these wonderful women who worked tirelessly to earn their Cyber Security Certificate from Emory University," said Penny Collins, President and CEO of Women In Technology. "Their journeys have been challenging, and their drive to improve their lives and to thrive is nothing short of inspirational. We want to thank our WIT partners for their tremendous support which helps make our Single Mothers' Program possible."
"At AT&T, we are committed to making our world one where everyone can thrive," said Venessa Harrison, president of AT&T Georgia. "We are excited to collaborate with Women In Technology and incredibly proud of these graduates for their resilience and tremendous accomplishments – for their today and for their families' tomorrow."
You can read more about our WIT Single Mothers' Program here. As a result of the ongoing pandemic, WIT quickly pivoted and is now offering participants the opportunity to begin their 12-week course virtually.
About Women In Technology (WIT)
Women In Technology empowers and educates women and girls about opportunities in science, technology, engineering, the arts, and math (STEAM) by educating middle and high school girls, and young women in college, and by sharing the stories of successful professional women in STEAM. For additional information, please visit mywit.org