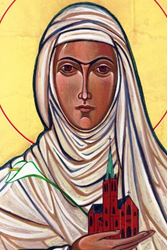 From Mother Mary to Catherine of Siena in the 14th century or Saint Edith Stein in the 1940s, women have carried the Word of God in service to the world through the power of the Holy Spirit.
SOUTH ORANGE, N.J. (PRWEB) June 19, 2019
As part of a summer graduate course exploring women mystics, Immaculate Conception Seminary School of Theology at Seton Hall University will present a one-day retreat entitled "St. Catherine of Siena: Mystic, Reformer and Doctor of the Church."
Open to the public, the day-long workshop will be led by Donna Orsuto, S.T.D., of the Institute of Spirituality of the Pontifical Gregorian University in Rome.
Co-founder and Director of The Lay Centre in Rome, Orsuto is also a Consultor for the Congregation for Divine Worship and the Discipline of the Sacraments and is a member of the Commission for Ecumenism and Dialogue of the Diocese of Rome.
"An ascetic, Catherine of Siena was called by the Holy Spirit to play a larger role in the public affairs of the day — she listened, and people listened to her," said Orsuto. "A remarkable woman of the 14th century, she was a woman of God, a woman of the Church and a woman of her times. She functioned as a de facto diplomatic envoy to two popes, negotiated peace, lobbied both Church and secular powers on behalf of one of those popes in the time of the Great Schism, and authored a mystical dialogue that greatly influenced both Church doctrine and Italian literature for centuries to come."
The Dialogue of Divine Providence can be considered the theological compendium of St. Catherine's writings. Other writings include her Prayers and her more than 380 extant Letters. The Dialogue of Divine Providence offers a spiritual roadmap for those who desire to grow into a deeper experience of union with God. In a celebrated passage from the Dialogue, also prayed liturgically in the Office of Readings, Catherine says:
Eternal Trinity, Godhead, mystery deep as the sea, you could give me no greater gift than the gift of yourself. For you are a fire ever burning and never consumed, which itself consumes all the selfish love that fills my being. Yes, you are a fire that takes away the coldness, illuminates the mind with its light and causes me to know your truth. By this light, reflected as it were in a mirror, I recognise that you are the highest good, one we can neither comprehend nor fathom. And I know that you are beauty and wisdom itself.
"Women and women mystics have played a pivotal role in the history of the Church throughout the ages," said Dianne Traflet, J.D., S.T.D., associate dean for Graduate Studies and Administration and assistant professor of Pastoral Theology at Immaculate Conception Seminary School of Theology. "From Mother Mary to Catherine of Siena in the 14th century or Saint Edith Stein in the 1940s, women have carried the Word of God in service to the world through the power of the Holy Spirit. This course and this retreat take an in-depth look at some of these women— their lives, their work and their legacies."
Event Information:
The day-long retreat is open to the public and will be held on July 13, 2019, 9 a.m.-5:15 p.m. The cost of the retreat is $25 and includes a continental breakfast and lunch. R.S.V.P. required by July 1. For more information or to register please contact Theresa Miller at Theresa.miller@shu.edu.
The summer graduate course, Women Mystics, is also open to the public and will explore the phenomenon and meaning of mysticism. The course is a study of the lives, times and spirituality of such women mystics as Teresa of Avila, Thérèse of Lisieux, Catherine of Siena, Hildegard of Bingen, Julian of Norwich, Teresa of Calcutta and Dorothy Day. The course features analysis of their major writings, including autobiographies, letters and poetry. For more information on the graduate course please contact Lisa DeDreu at (973) 761-9633 or Elizabeth.dedreu@shu.edu.
ABOUT SETON HALL UNIVERSITY
One of the country's leading Catholic universities, Seton Hall has been showing the world what great minds can do since 1856. Home to nearly 10,000 undergraduate and graduate students and offering more than 90 rigorous academic programs, Seton Hall's academic excellence has been singled out for distinction by The Princeton Review, U.S. News & World Report and Bloomberg Businessweek.
Seton Hall embraces students of all religions and prepares them to be exemplary servant leaders and global citizens. In recent years, the University has achieved extraordinary success. Since 2009, it has seen record-breaking undergraduate enrollment growth and an impressive 110-point increase in the average SAT scores of incoming freshmen. In the past decade, Seton Hall students and alumni have received more than 30 Fulbright Scholarships as well as other prestigious academic honors, including Boren Awards, Pickering Fellowships, Udall Scholarships and a Rhodes Scholarship. The University is also proud to be the third most diverse national Catholic university in the nation.
During the past five years, the University has invested more than $165 million in new campus buildings and renovations. And in 2015, Seton Hall launched a School of Medicine as well as a College of Communication and the Arts. The University's beautiful main campus in suburban South Orange, N.J. is only 14 miles from New York City — offering students a wealth of employment, internship, cultural and entertainment opportunities. Seton Hall's nationally recognized School of Law is located prominently in downtown Newark. The University's Interprofessional Health Sciences (IHS) campus in Clifton and Nutley, N.J. opened in the summer of 2018. The IHS campus houses the University's College of Nursing, School of Health and Medical Sciences and the Hackensack Meridian School of Medicine at Seton Hall University.
For more information, visit http://www.shu.edu.