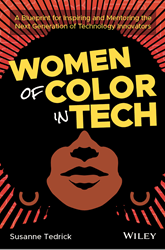 NEW YORK (PRWEB) April 06, 2020
In her new book, award-winning tech professional Susanne Tedrick encourages women of color to pursue careers in technology and provides a roadmap to break through barriers and build a rewarding and successful career in tech.
For too long, women of color have been underrepresented in tech. Many have not had access to strong support networks or resources to build successful careers in the tech industry. Even if they are successful in landing a tech job, they may encounter more difficulties that cause them to leave the tech workforce entirely.
With several years in the technology industry, Tedrick understands the challenges that women of color face and has written Women of Color in Tech in hopes of inspiring the next generation of women to explore careers in tech and provides a road-map to navigating the industry and building a rewarding future.
Tedrick says," I wrote this book to give women of color a sense of the diversity of careers in the tech industry. I also wanted to provide practical tips and strategies on building a great professional network, gaining in-demand skills, and developing a winning career portfolio, Finally, I wanted to address challenges that have caused women of color to not join or leave the tech workforce entirely - bias, imposter syndrome, mental health and lack of strong support systems to name a few - and strategies to help navigate these difficult situations."
Through her own experience of transitioning into the tech industry, Tedrick shares inspiring stories and practical, real-world advice to arm young women with the tools and knowledge they need to develop their skills, follow industry trends, find mentors and a support network, and cultivate strong relationships to build a successful career.
On Tuesday, April 14th, Tedrick will host a virtual panel discussion with other women in tech to dispute many of the misconceptions about technical careers (it's not all about coding!) – the panelists will share their experience of an industry that can be diverse, fun and incredibly dynamic. She invites young women to explore a future in tech and cultivate a vision for their futures by developing the right tools and the right mindset to be successful in the world of tech. Register for the virtual event, please visit the webinar registration page.
About the Author
Susanne Tedrick is a technical specialist for a leading Fortune 50 technology company. Fiercely committed to increasing participation of women and people of color in STEM educational and professional opportunities, she is a career mentor for the Pathways in Technology Early College High School (P-TECH) Initiative and a volunteer workshop technical assistant for Black Girls Code, a non-profit that empowers girls of color to develop in-demand IT skills and prepare to advance careers in tech.
Susanne was the winner of CompTIA Association of Information Technology Professional' s 2018 Rising Star of the Year Award and a 2019 nominee for CompTIA Advancing Women in Technology Mentorship Guide Spotlight Award for her dedication in advancing her tech career and that of future technologists. http://www.susannetedrick.com
PRESS CONTACT:
Dream Relations PR & Literary Consulting
Dawn Michelle Hardy
Dawn@DreamRelationsPR.com