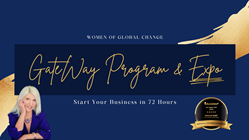 "We are thrilled to support the launch of The Gateway & WGC-LV Biz EXPO here in Las Vegas at The Blind Center of Nevada, the weekend of April 28-30, 2023 ," says Dr. Monica Riley, President WGC-Las Vegas Chapter.
LAS VEGAS (PRWEB) February 23, 2023
Women are over half the world's population yet still lack leadership positions.
With the start of the pandemic in the United States, women outnumbered men in the workforce. Today, however, we have seen the number of women in the workforce decline drastically as women are becoming more selective with their time and valuing their skills differently.
As a result, women are looking to engage in their own businesses, so they have more control of their time, finances, and career growth. Many are choosing to make less money and forgo career advancement opportunities for the freedom of flexibility for elder care and childcare to allow them to provide. Women are also choosing to make a difference in the world based on pursuing their heart-centered missions while earning an income.
To facilitate the creation of such businesses, Women of Global Change is presenting the WGC Gateway Program on April 28th & 29th, 2023. This event will be both in-person in Las Vegas and offered remotely.
The WGC Gateway assists individuals in creating their own businesses within 72 hours in a fast-paced, affordable, and easily accessible environment.
Women of Global Change (WGC) is a multiple White House award-winning 501(c) 3 organization that leads with service. The main focus of the WGC is to expand collaboration amongst like-minded leaders. Since its inception, the Women of Global Change has impacted communities with educational training and networks in local and international community social impact activism to create a better world for ourselves and all humankind.
Dr. Dame Shellie Hunt founded the Women of Global Change, and the WGC has had a powerful impact on the lives of people all over the world.
"I am most excited to see women step in and step up as entrepreneurs.
Women are natural entrepreneurs and multi-taskers. Being a single mom myself and having created multiple successful businesses after making $3000 a month for years, I understand the importance of the freedom of time and energy. This program covers everything I wish I had started with Branding, Logo, Marketing, and beyond in one lightspeed launch. I am on a mission to make at least 50 women-owned businesses this year. And better yet, that is accessible to even working single women like me. I don't know where else in the world you can get the assistance to create a business in less than 72 hours." Stated Hunt.
Dr. Dame Shellie Hunt will be personally leading this program and has a gift that results in a transformation impact on the people who work with her as she teaches the precise "How to" in the designs and strategies of your success. Known as the First Lady of Entrepreneurs, she has served tens of thousands of women, children, and individuals worldwide in communities and outreach programs.
Shellie has shared the stage with some of the top business speakers in the world and is a lead mentor in the Billionaire Adventure Club. She has appeared on national talk, and radio shows with audiences in the millions and has been a multiple contributor to Forbes.com. Her numerous appearances include CBS, ABC, USA Today, CBS Money Watch, Beyond the Dow, HLN, FOX, and many others. Shellie has taught at the University of Chicago, UCSF (where her marketing program was implemented as a curriculum in the business school), and she still mentors business strategy and innovation at Cal State Long Beach to both undergraduate and MBA students.
After the Gateway Program, there will be a Biz Expo on April 30th where businesses get to showcase their products and network while sharing lunch together and meeting the local community. "We are thrilled to support the launch of The Gateway & WGC-LV Biz EXPO here in Las Vegas at The Blind Center of Nevada, the weekend of April 28-30, 2023 ," says Dr. Monica Riley, President WGC-Las Vegas Chapter. "Women are the fastest growing demographic of entrepreneurs in the U.S., with nearly 5 million businesses nationwide. But even with their growing presence in the business world, women face disproportionate financial headwinds. The Gateway is the way to bridge that financial gap between business launch and profit success! Our impact is greater when we strive to achieve what we believe - together."
To find out more about the women of global change, go to http://www.womenofglobalchange.com
To explore the WGC Gateway Program, go to: Gateway