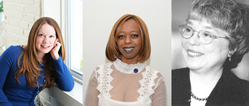 PROVIDENCE, R.I. (PRWEB) March 04, 2020
Women's Fund of Rhode Island is holding its Women Leading Change Fundraiser on Thursday, April 30 at the Alpine Country Club in Cranston. The event is from 6 to 9 p.m. Early Bird tickets are available at a discounted rate from now until March 30. The event is expected to sell out quickly as it has in previous years.
This is the Women's Fund of Rhode Island's premier fundraiser. It will feature a cash bar, a live and silent auction, a keynote address, awards, and a sit-down dinner. 2020 is the 100th anniversary of the ratification of the 19th Amendment giving some women the right to vote though it took much longer for all women in the U.S. to be able to exercise that right. The fundraiser celebrates milestones of women's civic engagement, recognizing the tremendous obstacles women have overcome while acknowledging that more needs to be done before true gender equity is achieved.
This year's Gender Equity Champion Speaker is Mary-dith Tuitt, a U.S. Navy veteran and a member of the Massachusetts Commission on the Status of Women and an executive committee member of the National Association of Commissions on the Status of Women.
Also, the following awards will be presented:

The WFRI Leadership Award is being presented to Arlene Violet, former Attorney General, and activist
The Susan Farmer Advocacy Award is being presented to Vanessa Volz, Executive Director of Sojourner House
To obtain tickets visit, https://events.eventzilla.net/e/women-leading-change-our-voices-matter-2138763263
Women's Fund of Rhode Island
Women's Fund of Rhode Island is a nonprofit organization located in Providence, Rhode Island. The mission of WFRI is to invest in women and girls in our community through research, advocacy, grantmaking, and strategic partnerships designed to advance gender equity through systemic change. For more information, visit wfri.org.