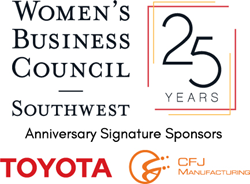 "In the quarter century that WBCS has been in operation, we have experienced major growth for ourselves and for all women business owners. We now boast a membership of over 1,200 women business owners and over 80 corporate members." - Debbie Hurst, WBCS President and CEO
IRVING, Texas (PRWEB) January 27, 2020
The Women's Business Council – Southwest (WBCS) is celebrating its 25th year helping women-owned business grow in the north Texas area and beyond. Founded in 1995 by a handful of women business owners and corporations, WBCS has been committed to providing the vital resources and connections for women entrepreneurs.
"In the quarter century that WBCS has been in operation, we have experienced major growth for ourselves and for all women business owners," said WBCS President and CEO, Debbie Hurst. "Our organization started with only 16 corporate members and a handful of women business owners, now we boast a membership of over 1,200 women business owners and over 80 corporate members."
The Council provides support to women business owners through their ongoing educational programming and networking events. As women often receive less access to capital for their businesses than male counterparts, it is vital that they know about the resources available.
"I know that women still face major challenges to starting, funding, and growing a business compared to majority male-owned companies. Our job here at WBCS is to remain strongly committed to addressing those challenges in new and evolving ways," explains Hurst. "In this new decade, I fully expect that we will make great strides in the number of women in the boardrooms and executive suites of our major corporations, as well as in the supply chain which will have exponential impact on the number and opportunities for all women owned businesses. Just last year, our corporate members reported spending 10.3 billion dollars with women-owned companies."
WBCS will kick-off its year-long anniversary celebration at the Parade of Stars Awards Gala on Tuesday, February 4, 2020 at the Omni Dallas. Several awards will be given out during the evening including the most coveted Women's Business Enterprise of the Year and Corporation of the Year. In addition to the awards presentations, the event features a bling box purchase with jewelry from JCPenney, gift card grab, cocktail reception, seated dinner, and an after party with dancing.
The Council's work happens through generous support of corporations headquartered in the Dallas / Fort Worth metroplex. For the 25th Anniversary, Signature Sponsors are Toyota and CFJ Manufacturing, a women-owned manufacturing company in Fort Worth, Texas. Learn more about the 25th Anniversary celebrations at http://www.wbcsouthwest.org/WBCS25.
Event Details
Tuesday, February 4th 2020, 6pm
Omni Dallas – 555 S. Lamar St, Dallas, TX 75202
Online registration for WBCS members is $125 and $150 for non-members. To register by Tuesday, January 28, 2020, click here. On-site registration is available at an increased rate. For more information, please call Elizabeth Garner at 817-405-2265.
Main Sponsors
This event is graciously sponsored by DFW International Airport, Software Professionals, Inc., JCPenney, Texas Instruments, Oncor, Vistra Energy, Personalized Payroll Services, Toyota, Parkland, and Prestige Maintenance USA.
Additional Sponsors
American Airlines, Ampcus, Argent Associates, BNSF Railway Company, CAET Project Management Consultants, Dell Technologies, Ericsson, Fluor, MUTTS Franchise, Nokia, PepsiCo, Raytheon, Real Time Resolutions, Southwest Airlines Co., University of North Texas System, and Women's Enterprise Texas
About WBCS
Celebrating 25 years, the Women's Business Council – Southwest (WBCS) is dedicated to increasing mutually beneficial procurement opportunities between certified women-owned businesses, corporations, businesses, government entities, institutions, and other organizations. Headquartered in Irving, Texas, WBCS has more than 1,200 Women's Business Enterprise (WBE) Members and 80 Sustaining (Corporate) Members, WBCS is in its 25th year of providing national certification to women-owned businesses. WBCS administers the national certification on behalf of the Women's Business Enterprise National Council (WBENC) for north and central Texas, Oklahoma, Arkansas, and New Mexico. To find out more about WBCS, please visit http://www.wbcsouthwest.org.