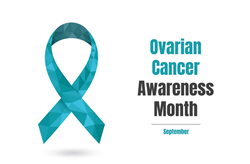 DETROIT (PRWEB) September 01, 2020
September is National Ovarian Cancer Awareness Month. Ovarian cancer is the 5th deadliest cancer among women, accounting for more deaths than any other cancer of the female reproductive system. The American Cancer Society estimates that in 2020, about 22,000 women will be diagnosed with ovarian cancer and about 14,000 women will die from this disease. Throughout the month of September, Women's Excellence aims to increase understanding of the disease and educate women on important preventive care options.
One reason as to why ovarian cancer is one of the deadliest female cancers surround the signs and symptoms of this disease. In most cases, early detection is difficult because symptoms are not as apparent. As the disease progresses, symptoms may include pelvic pain, bloating, difficulty eating, fatigue, unexplained weight gain or weight loss, backaches, painful intercourse, nausea, menstrual abnormalities, and even changes in bowel habits.
Dr. Jonathan Zaidan, MD, FACOG, President of Women's Excellence is dedicated to preventive healthcare for women. "Unfortunately, a simple and reliable screening method is not currently available for ovarian cancer. A pap smear does not screen for ovarian cancer," says Zaidan. "Paying attention to your body and going to your annual well-woman exam are your best methods for early detection. You know your body best and what is normal for you. If you notice any changes or abnormalities consistent with symptoms of ovarian cancer, contact your doctor right away for an exam."
Hereditary cancer testing (genetic testing) can be an important tool for many women to determine if a patient has a genetic predisposition that is linked to cancers like ovarian cancer and breast cancer.
"We're thrilled to have genetic testing services in our offices for women. We are able to use these results to develop an appropriate care plan to monitor and screen for these cancers more frequently," says Dr. Zaidan.
Throughout the month of September, Women's Excellence will be providing educational information regarding ovarian cancer and genetic testing through blogs, a monthly podcast, social media posts, and direct email campaigns to women in the community. Visit http://www.WomensExcellence.com or https://www.facebook.com/WomensExcellence for more information.
To schedule an in-office appointment or a telemedicine consultation, visit  http://www.WomensExcellence.com. Online Patient Support Specialists are available Monday through Friday from 8am-5pm to assist new, current, and prospective patients. The chat is located at the bottom right corner of your computer or mobile device screen at http://www.WomensExcellence.com. During offline hours, all chats sent will be messaged directly to a Women's Excellence team member. Offline messages will receive a response within 24 hours. Messages received during the weekend will be answered the next business week. Appointments can also be made at (248) 693-0543.
About Women's Excellence
Women's Excellence is the most comprehensive obstetric and gynecologic office in Michigan. Additionally, they specialize in menopause, weight control, bladder control, endometriosis, robotic surgery, oncology, and midwifery services. Women's Excellence is committed to staying at the forefront of innovation with cutting edge technologies utilizing robotic surgery and minimally invasive surgical options when possible. The knowledgeable, compassionate physicians and healthcare providers of Women's Excellence focus on patient-centered processes to deliver the highest quality of care. They are affiliated with most insurances. They offer seamless medical record access via a state-of-the-art patient portal and use the latest technology for record keeping and sharing, making the patient experience easier and more efficient. Women's Excellence is taking new patients and is conveniently located throughout southeastern Michigan in Clarkston, Lake Orion, Lapeer, Rochester, Royal Oak, and West Bloomfield. Women's Excellence is also a proud partner of Detroit's longstanding radio network, WJR 760AM, providing expert women's health news and information. For more information, visit http://www.WomensExcellence.com.