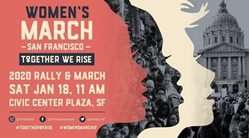 SAN FRANCISCO (PRWEB) January 14, 2020
On January 18, 2020, an impressive lineup of speakers and performers unite to kick-off Women's March San Francisco at City Hall Plaza, honoring the legacy of Dr. Martin Luther King during his birthday weekend with a peaceful demonstration of solidarity and action. The rally kicks off at 11:00 a.m., with programming to follow at 11:30 a.m., where the Schuyler Sisters and the cast of HAMILTON will perform, designed to remind the crowd of our country's spirit of resistance and action.
"Our communities are under fire - or suffering from actual fire - throughout our country and across the globe," says Sophia Andary, chair of Women's March San Francisco. "This dynamic set of speakers will drive home this year's theme of #TOGETHERWERISE!, showing how any issue of social justice impacts all of our work for social justice."
This year's speakers are leaders and defenders of human rights, promoting a society in which women are free and able to care for and nurture their families, however they are formed, in safe and healthy environments free from structural impediments.
The March and Rally are both family-friendly events planned and run by an all-volunteer staff and as such, volunteers are needed! To sign up to voIunteer, please use the form here. The team recommends public transit as the best way to get to and from the event, with detailed routes and other logistical information available at: https://womensmarchsf.org/logistics
Rally Speakers: (alphabetized by last name)
Dalila Adofo, Community Organizer & Bayview Hunters Point Community Air Monitoring Project Coordinator
Dalila grew up as a resident of East Palo Alto, California and started organizing at the age of 12 when she joined Youth United for Community Action. She has worked with the California Fund for Youth Organizing (CFYO) and helped coordinate and strategize a way for the California Student and Youth Bill of Rights to be passed. She was a member of Greenaction's Board or Directors for several years and is now the lead coordinator for the Bayview Hunters Point Community Air Monitoring Project.
London Breed, 45th Mayor of City and County of San Francisco
London Breed previously served as President of the San Francisco Board of Supervisors and Acting Mayor, leading San Francisco following the tragic passing of Mayor Edwin Lee. She is the first African-American woman and only second woman to serve as Mayor. London first won election to the Board of Supervisors in November 2012. In January of 2015, her colleagues elected her President of the Board. She was re-elected as District 5 Supervisor in November 2016 and unanimously re-elected as Board President two months later.
Carmen Chu, Assessor-Recorder, The City and County of San Francisco
Carmen Chu was appointed by late Mayor Edwin M. Lee to serve as San Francisco Assessor in 2013 before she was re-elected in November 2014 and again in 2018. Since taking office, Carmen has the distinction of being the only Asian American female Assessor in all 58 of California's counties.
Malia Cohen, Chair, Board of Equalization, 2nd District
Malia M. Cohen serves as a Member of the California State Board of Equalization (BOE), California's elected tax commission. Elected in November 2018, she is the first African-American woman to serve on the Board. In January 2019, her BOE Board Member colleagues unanimously selected her to serve as Chair of the Board.
Kimberly Ellis, Activist and Women's March San Francisco MC for 2020
Named the most powerful unelected person in California Democratic politics by the Sacramento Bee, Kimberly Ellis has helped shape the landscape of progressive and grassroots politics in California and beyond. For nearly a decade, Kimberly led Emerge California (the state's most effective training program for Democratic women who run for office) with incredible success, growing what had been a regional training program into a statewide electoral powerhouse for Democratic women.
Kaye Foster, Board Director, Glide
Kaye Foster is a growth leader, business builder, philanthropist, mother and woman of faith, whose life purpose is to "give voice to the voiceless." Kaye is currently a member of the Board of Trustees of Stanford Health Care, recently joined the Board of Directors of Valley Care, and was appointed to the Board of Directors of Agios Pharmaceuticals, a leader in the fields of cancer metabolism and rare genetic disorders of metabolism.
Kathy Gin, Co-Founder & Executive Director, Immigrants Rising
Kathy Gin is the Cofounder & Executive Director of Immigrants Rising, a San Francisco-based nonprofit that supports and advocates for undocumented young people to get an education, pursue careers, and build a brighter future for themselves and their community. For more than 20 years, Katharine has worked to enhance arts and education opportunities for low-income and minority youth. She has developed innovative programs in schools, housing projects, and detention facilities.
Saru Jayaraman, President, One Fair Wage
Saru Jayaraman is the President of One Fair Wage, Co-Founder of the Restaurant Opportunities Centers United (ROC United) and Director of the Food Labor Research Center at the University of California, Berkeley. After 9/11, together with displaced World Trade Center workers, she co-founded ROC, which now has more than 30,000 worker members.
Rabi'a Keeble, Founder, Qalbu Maryam Women's Mosque
Rabi'a Keeble is a graduate from the Graduate Theological Union in Berkeley with a Master's degree in Social Change, and Religious Leadership, Islamic Studies and African Church. Rabi'a is the founder of Qalbu Maryam Women's Mosque, which opened in 2017 at Starr King School of the Ministry. Rabi'a is a writer, speaker, and poet and social activist for the cause of women's rights, immigrant rights and the rights of Black Americans.
Eleni Kounalakis, Lieutenant Governor of California
Ambassador Eleni Kounalakis was sworn in as the 50th Lieutenant Governor of California by Governor Gavin Newsom on January 7th, 2019. She is the first woman elected Lt. Governor of California. From 2010 to 2013, Kounalakis served as President Barack Obama's Ambassador to the Republic of Hungary. Kounalakis was the first Greek-American woman – and at age 43 one of America's youngest – to serve as U.S. Ambassador.
Latanya Mapp Frett, President and CEO, Global Fund for Women
Latanya Mapp Frett is President and CEO of Global Fund for Women, one of the world's leading foundations for gender justice. Global Fund for Women has fueled feminist movements across the world for over 30 years, putting resources directly in the hands of courageous activists who are working to end oppressive policies and change entrenched norms.
Teresa Mejía, Executive Director, The Women's Building
Teresa Mejía is a community activist, feminist, single mother, Puerto Rican and the Executive Director of The Women's Building, which stands in the heart of the Mission District brilliantly painted with a mural dedicated to women, Maestrapeace.
Laura Millar, Disability Rights and Queer Rights Advocate
Laura Millar is a blind outspoken disability rights and queer rights advocate who is deeply committed to advancing the field of sexual health promotion for people with disabilities. With Master's degrees in Public Health and Sexuality Studies, Laura conducts research that examines how blind and visually impaired people learn about and navigate the world of dating, sex and intimate relationships.
Toni Newman, Author
Toni is the author of the 2011 memoir "I Rise-The Transformation of Toni Newman" discussing her 25 year difficult transition. The memoir was nominated in 2012 in two categories for the Lambda Literary Awards, honored in 2012 by Wake Forest University for Faces of Courage, and has been featured in the Advocate, Huffington Post and Ebony magazine.
Kanyon Sayers-Roods, Activist, artist, educator
Mutsun Ohlone and Chumash Native American Kanyon Sayers-Roods (Coyote Woman) art is a sincere expression of her Native heritage. Kanyon's visual descriptions are always based on nature and the natural world. Dedicated and active in the Native Community, Kanyon provides leadership, serving as an artist, poet, activist, student and teacher for up and coming scholars ready to challenge their creative paths and remind people what it means to decolonize.
Tiffany Shlain, Filmmaker
Honored by Newsweek as one of the "Women Shaping the 21st Century," Tiffany Shlain is an Emmy-nominated filmmaker, founder of The Webby Awards and author of the best-selling book 24/6: The Power of Unplugging One Day A Week. Tiffany's films and work have received over 80 awards and distinctions including being selected for the Albert Einstein Foundation Genius:100 Visions of the Future. Her films include her award-winning films for Planned Parenthood: Life, Liberty & The Pursuit of Happiness and Unstoppable and 50/50: The 10,000 year history of women and power.
Noemi Aidee Tungüi, Member, Idle No More S.F
Noemi Aidee Tungüi is a young, indigenous woman with Purépecha roots, born in Parangaricutiro, Michoacán, Mexico. She is a member of the multigenerational, indigenous women-led organization, Idle No More S.F. Bay. Noemi began her early activism while living in Los Angeles, where she graduated from Cal State University, Northridge. Noemi has advocated for strong environmental, immigrant and indigenous rights, healthcare, economic and other social justice issues throughout the state and the country.
Shannon Watts, Founder, Moms Demand Action for Gun Sense in America
Shannon Watts is the founder of Moms Demand Action for Gun Sense in America—the nation's largest grassroots gun violence prevention group, with chapters in all 50 states and a powerful network of volunteers and survivors that has successfully effected change at the local, state and national level.
Robin Wilson-Beattie, Speaker, Writer, Advocate
Robin Wilson-Beattie is a speaker, writer, and advocate for disability and sexuality as well as one of the first people to talk about disability, sexuality, and marketing to adult product retailers and manufacturers. She combines years of personal experience with medically sound research to provide a unique perspective on how life and identity impacts one's sexual expression. Her speaking engagements include multiple keynotes and panels, including three consecutive years speaking at the Adult Video News convention in Las Vegas.
Marithza Quiroz, Immigrants Rising
Marithza Quiroz is a graphic artist currently majoring in American Studies at UC Berkeley. She was born in Sonora, Mexico and migrated to the United States at the age of seventeen with her parents. She learned English and graphic design through community adult programs in Los Angeles. Marithza plans to pursue an advanced degree in art education. She loves drawing, conversing with friends over coffee, and exploring the city on public transportation.
We are making every effort to ensure accessibility for both the Rally and March. We will have an accessibility area in front of the stage and ASL interpreters on the stage. In an effort to make the march accessible to all, we have secured a trolley for those with mobility issues. There are limited seats and we ask for your assistance in assuring transport for those who are truly in need. All passengers must be registered and checked in on Saturday between 11 and 11:30 a.m. at the corner of Grove and Polk. After the Rally, the March will commence at 1:30 p.m. and conclude at Embarcadero.
Women's March San Francisco is a 501c3 organization supported entirely by donations, which can be made at: https://www.flipcause.com/secure/cause_pdetails/NjgxNTA=
For more information about ADA registration and how to participate, as a partner or otherwise, click here.
FOR MEDIA: B-roll and images from previous marches, impact statements for 2019 and other materials are available. Please register for press credentials for access to on-site press facilities.
For interviews or to register as press, please contact: womensmarch@thekeypr.com