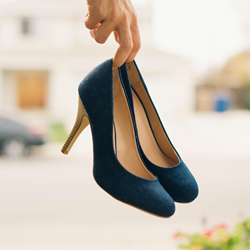 Zappos sets the standard for the ideal experience in online shopping for women's shoes, and we're happy to give them a first-place rating in 2020.
OVERLAND PARK, Kan. (PRWEB) December 01, 2020
TopConsumerReviews.com recently gave their best-in-class 5-star rating to Zappos, a leader among online stores that offer Women's Shoes.
Buying women's shoes can be a tricky experience. With many brick-and-mortar retailers closing their doors, options for shopping in person are decreasing. And, for ladies whose feet don't fit the typical mold - smaller, bigger, wider, or just overall harder to size comfortably- finding new shoes can be downright depressing. They may even avoid shopping online for their next pair of running shoes or heels, thinking that there's no way that they're going to get the right size without trying them on first. But, that's a big mistake: online retailers of women's shoes go to great lengths to help make that perfect Cinderella-like fit, with tools that take into account a current pair that fit well and then recommend which brand and size would be comparable, and generous return and exchange policies that cover the shipping if customers need a refund or different size.
"Shopping for women's shoes at Zappos can only be described as 'incredible'," according to Brian Dolezal of TopConsumerReviews.com, LLC. "Where else can you find a shoe store with more than 40,000 pairs to choose from - and that doesn't even take into account everything Zappos has to offer for men and children, and with handbags and other accessories. Regardless of your preferred brands and budget, the hardest thing you'll face when shopping at this store is choosing from all of the shoes that are exactly what you're looking for. From designer brands to everyday options, dressy to casual, Zappos has it. Every purchase comes with free shipping and a 365-day return policy, so you don't have to worry about what happens if it's not the right size: 'if the shoe fits, wear it' may be the maxim, but if it doesn't fit you can send it right back! Zappos sets the standard for the ideal experience in online shopping for women's shoes, and we're happy to give them a first-place rating in 2020."
To find out more about Zappos and other sellers of Women's Shoes, including reviews and comparison rankings, please visit the Women's Shoes category of TopConsumerReviews.com at https://www.topconsumerreviews.com/womens-shoes/.
About Zappos
Established in 1999, Zappos is a leading customer service company and innovator in online retail, company culture, and organizational evolution. Specializing in shoes, clothing, and more, Zappos WOWs customers through its legendary 365-day return policy, fast/free shipping, and 24/7 friendly service.
About TopConsumerReviews.com
TopConsumerReviews.com, LLC is a leading provider of reviews and rankings for thousands of consumer products and services. From Women's Shoes to Flower Delivery and Jewelry Stores, TopConsumerReviews.com delivers in-depth product evaluations in order to make purchasing decisions easier.